Weird California - By Joe Parzanese
Addresses
Bell Plastics


2020 National Ave
Hayward, California 94541

Cambria Christmas Market


2905 Burton Drive
Cambria, California 93428

Candy Cane Lane


Lubao Avenue
Woodland Hills, California 91367

Christmas Tree Lane


Santa Rosa Avenue
Altadena, California 91001

Giant Clams of Pismo


470 Price Street
Pismo Beach, California 93449

Giant Clams of Pismo


165 Dolliver Street
Pismo Beach, California 93449

Giant Sugar Castle


335 Powell Street
San Francisco, California 94102

Lilley Hall


10104 Moorpark Street
Toluca Lake, California 91602

Montezuma Valley Market


37554 Montezuma Valley Road
Ranchita, California 92066

Moonlight Motors


274 North Coast Highway 101
Encinitas, California 92024

Morro Bay T Pier


1185 Embarcadero
Morro Bay, California 93442

Pismo Beach Chamber of Commerce


581 Dolliver Street
Pismo Beach, California 93449

Robolights


1077 East Granvia Valmonte
Palm Springs, California 92262

Santa Claus


2801 East Ventura Blvd
Oxnard, California 93036

Santa's Village


28950 CA-18
Skyforest, California 92385

Shopping Cart Christmas Tree


2437 Main Street
Santa Monica, California 90405

The Fairmont's Gingerbread House


950 Mason Street
San Francisco, California 94108

World's Largest Handmade Candy Cane


125 West B Street
Ontario, California 91762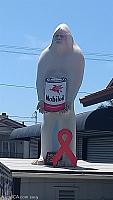 Weird Christmas
Merry Weird Christmas! Happy Hanukkah! Happy Kwanzaa! And Happy Holidays! I hope you're dreaming of a Weird Christmas, because there are several weird holiday themed attractions in the state of California that you can visit from Santa Claus's to yetis to light shows to unique and amazing attractions! We'll start with perhaps the most famous of them all . . .
Santa Claus is Coming to Town
For 52 years, Santa Claus resided on Santa Claus Lane in Carpinteria, south of Santa Barbara, but in January 2003 he was moved to Oxnard. He use to stand over a business on the Lane, along with his friend Frosty the Snowman. Frosty ended up at Tom Merkel's Lost Highway Car Garden in Maricopa, while Santa received a new home in Oxnard, where you can see him as you drive along 101.
Candy Cane Lane
Did you know that Ontario, east of the Los Angeles area has the World's Largest Handmade Candy Cane? Located in Logan's Candies, it's about six feet in length and thirty pounds! That's a whole lot of deliciousness. Also check out Ontario's giant Navity scenes along the main road, Euclid. There are twelve gorgeous life sized scenes and they first debuted in 1958!
Oh Christmas Tree
California has not one, but two different weird Christmas trees! Our first one is in Santa Monica and it is entirely made out of shopping carts. The second Christmas Tree resides in Morro Bay and is made out of Crab Pots.
For the more normal pine trees, down in Altadena, Christmas Tree Lane has been lit for almost 100 years and is quite possibly the oldest outdoor Christmas display in the United States! The pine trees were planted on the street way back in 1883.
Speaking of old trees being lit up for Christmas, the Hotel del Coronado, off the coast of San Diego, has the world's first electrically lighted outdoor Christmas tree, which was unveiled at the hotel way back on December 24th, 1904! I've heard they also have an upside down Christmas Tree in the lobby. And if you want a giant tree, the General Grant Tree in Kings Canyon National Park was declared the nation's Christmas Tree way back in 1926!
Christmas Clams
Pismo Beach has three large clams that they paint and decorate throughout the year, and Christmas is no different, with each clam usually sporting a different Christmas themed painting. One is often done up as Rudolph, complete with a nose that lights up!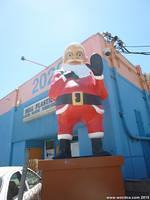 Everyone's Waiting for the Man with the Bag
In Hayward, one can find a gathering of fiberglass giants! Located at Bell Plastics, there are several Muffler Men, two Doggie Diner Heads, and even an International Fiberglass Santa Claus! Santa Claus is 12 feet tall and was purchased originally way back in 1961.
There are rumors of additional International Fiberglass Santas making appearances around the greater LA area for the holidays. Rumors of other Santas include Candy Cane Lane in Woodland Hills as well as the curved building at 8760 West Sunset Boulevard. I've also heard of a rumor of one in Pasadena.
A Robot Christmas
Although it hasn't happened since 2018, there are rumors of it one day returning outside Palm Springs. But before neighbors got the city to shut it down, Robolights was the biggest and oddest robot filled Christmas Lights show around! With robots, skulls, and Santas, the event was one not to be missed, and hopefully it will return again some day. You can still stop outside the grounds and see some robots.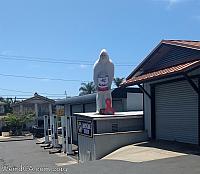 Yetis
There are at least two yetis hanging out, in of all places, Southern California. One is in Encinitas at a auto shop, while the second one is in Ranchita at a market. In a state known for Bigfoot, it's nice to see his cold weather cousin also making appearances!
Light Shows
Christmas is known for its many and varied light displays and they can be found throughout the state. Some are colorful neighborhoods or streets with pretty impressive amounts of lights. Others are full on festivals or events put on by organizations that can cost a fair amount of money.
A fairly popular neighborhood light show down in Los Angeles is Candy Cane Lane in Woodland Hills. Candy Cane Lane in Woodlands Hills is basically a neighborhood that decorates and decorates and decorates! It's mostly accessible by driving along its length and taking in all the lights.
For other light shows, Cambria Christmas Market, south of Hearst Castle has over two million Christmas lights, vendors, music, food, Santa, and even a short little train ride. It features several locations that scream for you to pose in front of. Located at the Cambria Pines Lodge, it is an awesome event to visit on the Central Coast.
Two other spectacular light shows, although not specifically Christmas Light displays, include the Moonlight Forest, located at the LA County Arboretum and the Enchanted Forest of Lights at Descano Gardens. Both usually occur from around Thanksgiving until early January. Moonlight Forest is a festival of lights featuring lots of lanterns, while Enchanted Forest of Lights utilizes both unique light setups with the natural environment in order to create cool and immersive lit up settings.
Santa's Village up by Lake Arrowhead
Although this Christmas themed attraction formerly closed in 1998, having been opened originally since 1955, it has come back, just a few years ago! Santa Claus, Mrs. Claus, and a host of other characters are all on in hand to help you celebrate Christmas with a variety of Christmas themed attractions and events! You can visit Santa's House, his workshop, decorate cookies with elves, go ice skating, and watch a variety of entertainment from magicians to puppets!
Gingerbread and Sugar Castles
Two hotels in the Bay Area have unique houses or castles. The Fairmont on Mason Street in San Francisco every year builds a giant two plus story gingerbread house! Usually clocking in at over twenty feet, the house is an impressive thing to visit, and it's free.
Meanwhile, the Westin St. Francis has been putting up giant sugar castles since 2005! In recent years, it has clocked in at an impressive 12 feet and used over 600 pounds of sugar!
Cause We Need a Little (More) Christmas
A house in Tracy puts on a phenomenal light show featuring over 70,000 lights as well as amazing special effects. The show is usually about thirty minutes. Current and previous shows can be seen on their YouTube Channel. They also have a Halloween show.
You know those small Dickens Christmas villages that you can buy at say Hallmark or Macy's, well the Bay Area has a life sized one! And although not happening like normal in 2021, usually the Dickens Fair allows you to enter the world of Charles Dickens as the place reproduces a town in Victorial London on Christmas Eve. Filled with over 700 actors, and showcasing iconic locations from Charles Dickens' A Christmas Carol with theaters, pubs and even a party at Fezziwigs, it's sort of like a Victorian Engand Christmas themed Rennaisance Faire. This year it has been reconfigured as a drive thru experience taking approximately one hour.
Not only is Lilley Hall known for the musical composer who lived there, but now it's also known for its exquisite Christmas decorations! Located in Toluca Lake, the display is very classy. I think the toy soldier Christmas Tree is very unique, and the display features Santa in his sleigh taking off with several flying reindeer. They also do fantastic Halloween decorations as well. You can see some of their decorations on their Instagram.