Weird California - By Joe Parzanese
Addresses
20th and Oak


2000 Oak Street
Bakersfield, California 93301

Bakersfield Californian Newspaper


1707 Eye Street
Bakersfield, California 93301

Bakersfield Central Park


Bakersfield, California
Bakersfield High School


1241 G Street
Bakersfield, California 93304

Browning Road Lady


Browning Road
Delano, California 93215

Burroughs High School


500 French Avenue
Ridgecrest, California 93555

East Bakersfield High School


2200 Quincy Street
Bakersfield, California 93306

Former Club Paradise


902 19th Street
Bakersfield, California
Fort Tejon


4436 Lebec Road
Lebec, California 93243

Garces Memorial Circle


Bakersfield, California 93301

Gaslight Melodrama Theater and Music Hall


12748 Jomani Drive
Bakersfield, California 93312

Highland High School


2900 Royal Scots Way
Bakersfield, California 93306

Kern County Museum


3801 Chester Ave, Bakersfield
Bakersfield, California 93301

Kern County Realty Group


21218 18th Street
Bakersfield, California 93301

Lake Isabella


Lake Isabella
Lake Isabella, California 93240

Phantom Deer of Kelso Valley


Kelso Valley Road
Weldon, California 93283

Sinaloa Mexican


910 20th Street
Bakersfield, California 93301

The Padre Hotel


1702 18th Street
Bakersfield, California 93301

Tony's Pizza


1806 Cecil Avenue
Delano, California 93215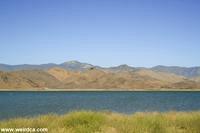 Kern County Ghosts
Arvin
Arvin Mortuary - A mortuary in Arvin has a few different paranormal phenomenon ranging from several sightings of a white light to the PA system obviously being off, yet choir music could clearly be heard from it. Finally there's the resident ghost, simply referred to as the white lady. Note, this story comes from the Internet and I haven't been able to figure out which mortuary is the one in the story. If anyone knows for sure, please let me know.
Bakersfield
20th and Oak - a hospital supposedly use to exist around here and now ghosts of children who died of some long dead illness (sometimes said to be scarlet fever) have been seen haunting the area.
Bakersfield California Newspaper - this newspaper building is haunted by multiple ghosts including that of a German Shepard!
Bakersfield Central Park - around dawn a ghostly woman wearing a white flowing dress has been seen in the park, often floating above the canal. She is believed to be the ghost of a murder victim.
Bakersfield High School - The high school has three or four different hauntings. The ghosts of a young couple haunt the top of the bleachers, often during football games. The guy wears a Bakersfield High School letterman jacket, while she wears an old fashioned prom dress. The two ghosts give the entire area a strange chill. They are occasionally seen making out. Harvey Auditorium is also haunted by the spirit of a worker who died when he fell from the rafters during construction. Finally, the Quad is haunted. A hospital once stood on that location prior to the school being constructed. The hospital reportedly buried body parts in the area that is now the Quad.
Club Paradise - Formerly Club Paradise, then Club 902, now just gone. The building has even been renumbered to 906 19th Street somehow and is now Liberty Career College. One wonders if Liberty has taken the now homeless ghost in. Originally though, the story told of spirits making appearances in Club Paradise. It was certainly a mischievous spirit as it would grab and even grope customers, move objects, shove people in the hallway, and even lock employees in the storeroom.
East Bakersfield High School - The specter of a former janitor still wanders the halls of the second oldest high school in Bakersfield. The story goes that this employee fell from a ladder and broke his neck. He was so dedicated to his job he now haunts the school. People have heard his ghostly footfalls as well as the sounds of his deadly fall off the ladder.
Gaslight Melodrama Theater and Music Hall - this theater use to be a toy story. According to legend the owner (although some stories state simply an employee) went bankrupt trying to support his shop and subsequently hung himself up in the attic. Since then the building, now a theater, has been haunted by his ghost. Not only has he been felt passing people on the stairwell, but he's been accused of breaking mirrors as well as crossing the stage during performances. Also mysterious shadows have been seen in the women's dressing room and sequin dresses have shaken back and forth all on their own.
Garces Circle - the statue of Father Francisco Garces is said to give warning before major accidents. People have reported that just prior to an accident, and there's been quite a few in the circle, the statue's hands have moved or the victims of the impending accident have heard him utter a prayer for them. This is the only traffic circle in Bakersfield.
Highland High School - the Wesley Anderson Hall is haunted by the ghost of a man who plays pranks on the living ranging from whispering in people's ears, moving costumes around in the costume loft, and turning the lights off on people when they are on stage (but supposedly never during performances). Additionally a second ghost that of a teenage girl dressed in 1950s clothing has been reported haunting the stage area.
K Street - it is rumored that long ago a brothel burned down on K Street, and several firefighters died while rescuing the girls. Now ghostly firefighters have been seen crossing K Street, off to rescue people from the spectral fire.
Kern County Kids Shelter - Although the building has been the restaurant, Sinaloa Mexican, for decades, in paranormal circles it's better known as the former Kern County Kids Shelter built in 1901. It is rumored to still be haunted by the ghosts of children who were neglected by the shelter's staff.
Kern County Realty Group - The realty company no longer operates out of this house originally built in 1911 and it is now available for sale. It's a good thing for the realtors as the house is rumored to be haunted by not one, not two, but three different ghosts! Ghostly activity includes the usual: lights going on and off, doorknobs rattling, mysterious voices, doors and windows opening and closing, as well as the typical sounds of footsteps, particularly on the stairs. The three spirits include an angry man, an elderly woman, and a young man seen hammering. The young man is believed to have fallen to his death when the house was originally being built.
The Padre Hotel - a variety of haunted activity has taken place in the hotel, mostly on the seventh floor. The activity has ranged from people reporting they were pushed to actual seen spirits. The main ghost is that of a giggling young girl dressed in 1920s / 1930s clothing who leaves a reappearing child sized handprint. There are differing stories about the origin of some of the ghosts ranging from victims who died in a fire in the 1950s to suicide victims who jumped off the roof.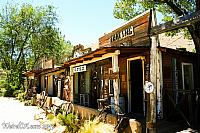 Pioneer Village - The Pioneer Village is part of Kern County Museum and contains over 55 historical buildings. Ghostly children have been seen in front of the Norris School Building which dates from 1882. And the Weill House has hosted ghostly birthday parties! A few other buildings have also reported hauntings.
Bodfish
Silver City Ghost Town - Over 20 historical structures have been gathered to form the Silver City Ghost Town. Now, the "town" is haunted. Witnesses have seen objects float or get hurled across the room. Doors and windows have opened and closed all on their own, a rocking chair has rocked itself, and cold spots have been reported. Strange noises ranging from the clinking of glasses to voices have also been heard. The jail is also supposedly very haunted.
Delano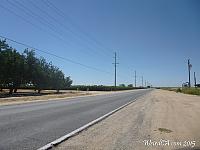 Browning Road Ghost - this lonely stretch of road in Delano is haunted by the ghost of a young lady who not only jumps in front of cars, but also appears in your back seat!
Tony's Pizza - located on Cecil Avenue, this pizza place is haunted by the ghost of a former female employee who might have committed suicide in the kitchen by hanging herself. She now knocks things off shelves and emits faint screams. Her unruly spirit can be seen around 10:25 pm both inside and outside the restaurant.
Keene
Keene Hospital - down some dirt roads outside the small town of Keene lies an abandoned hospital. Once a tuberculosis hospital, it was over crowded and housed way too infected. Now, people have heard strange voices and noises as well as having the sounds of children laughing and talking in the children's ward.
Kelso Valley
Phantom Deer of Kelso Valley - A massive deer with enormous antlers has roamed Kelso Valley since the 1930s, and over the decades it's been impossible to kill, no matter what type of gun the hunter or hunters have tried to use. He always survives and always disappears without a trace, because he's a phantom deer, haunting the valley.
Lake Isabella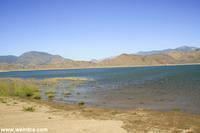 Lake Isabella - the ghost of a murdered Chinese cook floats above the waters of Lake Isabella looking for vengeance.
Lebec
Fort Tejon - a ghost haunts this Fort, particularly a solitary oak tree. The ghost is either that of a French trapper named Peter Lebeck who was killed by a bear in 1837 (and who the town was named after) or that of a soldier specifically a dragoon or mounted infantry.
Ridgecrest
Burroughs High School - According to the legends, the Lecture Center is haunted by not one, but two ghosts. The first is a man who perished during construction, falling from some scaffolding and supposedly landing on his head. The second ghost originates from an actor who was shot during a play put on by the school's drama club. The story states that someone put a live bullet in the play's prop gun. As a result of both ghosts, lights will turn on by themselves, despite repeated attempts to turn them off. A curtain moves on its own, blowing back and forth despite there being no wind or draft, and it only moves under its own volition during sad scenes of the current performance. Lastly a seat on the left side of the room has cold spots for whoever sits there.
Comments:
Robert of Montebello , California on 2021-07-30 said:

The ghost of a lady and her son that drowned in the Kern river while swimming while camping with their family in 1974 still haunts the upper basin of the Kern river today they say you can feel her pulling you from the area she drowned as well people have seen a lady and boy walking along the banks then all of a sudden they disappear or they sometimes hear a boy crying

Allen Ibarra of Bakersfield , CA on 2021-07-07 said:

The house in currently in is haunted. I actually caught a video of him on my surveillance camera. 218 curnow 93307. Google the address

Anonymous of Bakersfield , Ca. on 2021-07-07 said:

I agree with more places than this bring gsunted in this town. I've heard of 2, one is an actual church, wont give the name out but its a fairly huge one, out bye Stockdale area, so my siblings would work for a janitorial company n would always be wesry of going to clean thst huge church. Several spots, but they said mostly a kitchen the sanctuary, they would hear soft murmured voices, n they would often vacuum n wipe off, chairs, alters, etc etc. so there was a mischievous ghost that would go n drop offeriing envelopes n pencils straight off the back of the chairs, or woul dhut fown the lights on them whole vacuuming scaring them terribly cause it would be pitch blavk in there! Forcing them to carry glashlights or their cells to luminate the light switvh location often times the switch would be to the on position n yo their knowledge lights did not have a timer, n the creepiest one? They faced was in the kitchen? They would often clean off n restolk coffee suplirs n clean off counters, so my brother said they both sent out to load up on supplies, when they came back coffee pot was on ? N running water was on. Cabinet where coffee was was open! They went out to grab exactly that? So theres no way? So the filled up n stolked up walked out! Door slams biolently hard, n they heare a loud angry growl sounded like get put to them! They sure did! They never returned! They both quit, n to this day wont even drive padt yhat church nor care to step foot in a church🤭, I wonder tho? If it is true? Why would a bad energy abide where the Holy Spirit abides in?

Morton of Bakersfield , California on 2021-02-04 said:

Another hot spot for paranormal activity is the California Aqueduct off of Taft HWY. I have heard footsteps when no one was around near the Lake Buena Vista. There is another bridge just before that one where something patted my head and the creepiest is the wash area right off the HWY. What looked liked a silvery white coyote appeared in an area where there was no way to get in.

Jessica of Lake Isabella, Ca on 2020-10-29 said:

Hey Lois, if you don't like the pollution then you are free to do your part and participate in helping clean up the trash! It's beautiful here and the people are kind, anywhere you have tourists you will have some issues.

Diana Thompson of KERNVILLE, CA on 2020-09-08 said:

I lived in a house on 615 niles that was terribly haunted. All my photos would be turned upside down. It got so bad when my husband's daughter visited that we had to take her home for fear she would be hurt. I caught a demon on a photo I scanned while I lived there.

Anonymous of Bakersfieldon 2020-05-26 said:

There are wayyy more haunted places in Bako and much worse than the ones on this list. Many of them are actually houses. One of the worst places I've been is the Antique Store in 19th street, now called Merry Go Round Antiques or something like that. The basement is hell itself...

Lois of Riverside , Ca on 2019-08-29 said:

The only spirits above Lake Isabella are the half full beer cans the people throw when they hear the rangers coming. And the lady spirit that hops into the back seats of people's cars out on the highway, better dang straight have some real money to pitch in for gas......
Outside References:
Haunted Places: The National Directory (2002) by Hauck, Dennis, p: 30, 35, 49, 50, 56
Mysterious California (1988) by Marinacci, Mike, p: 69 - 71
Great Ghosts of the West (1971) by Webb, Richard, p: 13 - 17, 86 - 89