Weird California - By Joe Parzanese
Addresses
Bard Mansion
Naval Base Ventura County
Port Hueneme, California 93042

Bardsdale Cemetery


1698 S Sespe Street
Fillmore, California 93015

Beachcomber Tavern


206 Ocean Drive
Oxnard, California 93035

Bella Maggiore Inn


67 South California Street
Ventura, California 93001

California Lutheran University


Mount Clef Dorm Mountclef Boulevard
Thousand Oaks, California 91360

California State University Channel Islands


1 University Drive
Camarillo, California 93012

Char Man


11980 Creek Road
Ojai, California 93023

Father Serra Cross


Ventura, California 93001

Glen Tavern Inn


134 North Mill Street
Santa Paula, California 93060

Lady in White of Sycamore Road


Sycamore Road
Fillmore, California 93015

Los Arbolitos Apartments


201 W Vineyard Avenue
Oxnard, California 93036

Majestic Theater


48 S Chestnut Street
Ventura, California 93001

Mission San Buenaventura


211 E Main Street
Ventura, California 93001

Nordhoff Cemetery


Del Norte Road
Ojai, California 93023

Olivas Adobe


4200 Olivas Park Drive
Ventura, California 93001

Point Mugu State Park


Malibu, California 90265

Rose Avenue


Rose Avenue
Oxnard, California 93010

Santa Clara High School


2121 Saviers Road
Oxnard, California 93033

Santa Clara House


211 East Santa Clara Street
Ventura, California 93001

Scary Dairy


Old Dairy Road
Camarillo, California
Stagecoach Inn


51 South Ventu Park Road
Newbury Park, California 91320

Sycamore Park


Planetree Avenue
Simi Valley, California 93065

The Billiwhack Monster


2275 Aliso Canyon Road
Santa Paula, California 93060

Valdez Alley


Valdez Alley
Ventura, California 93001

Valentino's Beach House


224 Cahuenga Street
Oxnard, California 93035

Ventura City Hall


501 Poli Street
Ventura, California 93001

Ventura High School


2 N Catalina Street
Ventura, California 93001

Victorian Rose


896 E Main Street
Ventura, California 93001

Walmart


2001 N Rose Avenue
Oxnard, California 93036

Zander Building


427 E Main Street
Ventura, California 93001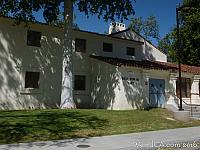 Ventura County Ghosts
Camarillo
Cal State Channel Islands - the campus of this California State University was originally the Camarillo State Mental Hospital and at one time housed over 7000 mental patients. After over six decades of operating as such it is now a horribly haunted college!
Scary Dairy - used as therapy for the Camarillo State Mental Hospital, the Scary Dairy was a fully operational dairy that had patients from the nearby mental institute working it, tending to the animals and growing vegetables for the hospital. Closed in the sixties, it was left abandoned, slowly decaying subject to hoards of vandalism and graffiti. Now it is rumored to be haunted by the ghosts of those who use to work there.
Fillmore
Bardsdale Cemetery - this cemetery has two separate ghostly manifestations. First, supposedly between midnight and 2am a ghostly women in a white glowing dress shows up and prays to a grave stone. Two separate legends state that she either was hung from a tree on site or killed in a car accident nearby. The second manifestation involves the sounds of ghostly children either playing or crying. This story probably originates from the four gravestones for the Stone children who all died between May 10th, 1878 and May 13th, 1878.
Sycamore Road - There's a Lady in White haunting a sycamore tree in Fillmore along Highway 126, where Sycamore Road meets the highway. She has appeared floating a few inches off the ground without a face, and has also appeared mostly normal, and quietly accepting rides "home" only to mysteriously vanish.
Moorpark
Gravity Hill - Somewhere near Moorpark Community College is a gravity hill, one of those spots where you can park your car and it "appears" to roll uphill. According to legend, back in the 1940s a school bus full of children died at the location, either from the brakes failing or in another version, the students getting crushed by a local farmer who was driving recklessly while they awaited their schoolbus to be fixed. Now the ghosts of the children push cars back up the hill. There could also be a second gravity hill over on Happy Camp Road too.
Newbury Park
Stagecoach Inn - three separate spirits haunt this historical house which has gone under extensive restoration due to a fire.
Ojai
Camp Comfort and Creek Road - Creek Road is primarily haunted by the horrifying Charman, a specter who perished in a big fire long ago. But if that's not enough, there's also a ghost bride, a spectral horsewoman, a headless motorcyclist, ghostly children, disembodied hands, and even an ancient vampire protected by a giant ghostly black dog!
Nordhoff Cemetery - this cemetery is haunted by the ghost of a young girl, believed to be Verna Miller who died in 1908. She has been seen by multiple witnesses some of which have even reported having her speak to them. One even stated that she told them "They buried me here." In addition, she has been heard humming in the cemetery. Strange shadow people have also been reported on site, but only late at night.
Oxnard
Los Arbolitos Apartments - so the urban legends state that this apartment complex was built where a cemetery use to be, but the cemetery was moved. Well moved, except for all the bodies, which are still rumored to be beneath the apartment buildings! Some of the manifestations that have occurred include lamps being on after residents knew they had turned them off, the scent of lavender, and a glass inching its way to fall and shatter in the kitchen sink.
Rose Avenue - this is where Rose Avenue passes Central Avenue. A drunk driver hit and killed a woman who walking along the road. He supposedly dragged her body with the front of his car before smashing into a tree and cutting her in half. She is a classic hitchhiking ghost who has been known to ask for rides as well as appear in the back seat of those who drive past her.
Santa Clara High School - The main ghost in this high school is "Joey" who died in the fifties in a car accident on his way to a basketball game. Now both teachers and students have reported hearing phantom basketball sounds coming from the gym late at night. Locker doors have also slammed shut after a room has already been locked up. Other strange manifestations seen in the school include hooded figures floating through the halls as well as voices and chanting emanating from an old, no longer used, chapel.
Walmart - the toy department of this Walmart is fittingly enough, haunted by the ghost of a 7 to 9 year old girl. She wears a blue dress, has two pig tail braids, and wears clothing from the fifties or sixties. She is said to be playful, often appearing either in solid form or in a misty-upper-half-of-her-body-visible form. There are reports of her giggling and smiling at Walmart employees, as well as playing with various balls in the aisles. Balls have also been seen bouncing by themselves. She supposedly died onsite long before there was a building located there.
Port Hueneme
Bard Mansion - this stately manor is rumored to be haunted by a couple ghosts including the ghost of Mrs. Bard, who was the wife of California Senator Thomas Bard; Ah Ching, a former Chinese servant; and the Senator himself.
Mugu Rock - this rock is formed from a Native American princess throwing herself into the sea. Supposedly the Lady of Mugu Rock still haunts the area.
Santa Paula
Billiwhack Dairy - teenagers from Santa Paula High School have been tormented for decades by the sinister Billiwhack Monster, a product of mad genius by a World War II spymaster who was involved in making a super soldier!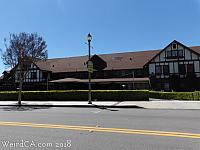 Glen Tavern Inn - multiple spooks haunt the Glen Tavern Inn including an elderly cowboy, a woman, and even an eight year old boy who plays in the lobby.
Wheeler Canyon - a ghostly sheepherder haunts Wheeler Canyon. He was supposedly murdered by cattle ranchers.
Simi Valley
Beachcomber Tavern - this bar is haunted by the ghost of a Navy man who often appears in the mirror. He was apparently stabbed to death in the bar in the seventies as a result of a twisted love triangle. The spirit here apparently doesn't like modern music and he has unplugged the sound system before when modern music has been playing. He has also thrown a tray of vegetables across the room.
Sycamore Park - Sycamore Park has multiple strange phenomenon including a ghostly man sitting on some rocks, a strange lighted circle that appears on the ground, and some sort of creature that resembles a white furry gorilla that runs on all fours!
Valentino Beach House - Rudolph Valentino haunts almost everywhere, so why not Ventura County too. Valentino lived here only briefly back during the filming of the movie "The Sheik", but now it is said that he is haunting this beach house and appears as a dark phantom seen wandering the veranda.
Thousand Oaks
California Lutheran University - supposedly Mount Clef Hall is now built on the site of an old hotel that saw a young boy get murdered! The little boy now haunts the dorm and has been seen wandering the halls upstairs. Other incidents include finding doors that were closed and locked wide open in the morning, pillows being yanked out from underneath sleeping residents and then flung across the room, mud appearing and then disappearing in beds, along with the cries and whimpering supposedly of a small boy.
Ventura
Bella Maggiore Inn - this inn is haunted by the ghost of a prostitute who use to live in the hotel. She either hung herself out of depression or was murdered, her death staged to look like a suicide. She died on Christmas Eve in 1947.
Olivas Adobe - the ghostly Dark Lady haunts this old adobe. She is thought to be the original owner.
Father Serra Cross - a woman with jet black hair dressed in an all white Victorian nightgown is said to lurk around the cross at night. However, it is said that she has absolutely no face just an empty spot! The story goes that she was a Native American who was assaulted, strangled, and buried near the cross by a Spanish soldier back in the 1800s. She got her vengeance though and haunted him every night until he took his own life with a pistol. She now haunts the area around the cross.
Majestic Theater - the theater has multiple ghosts including a headless woman who dances onstage in a white dress and a man with slicked back black hair and pencil thin mustache wearing a pinstriped suit often seen smoking a cigarette outside the men's restroom. When staff inform him that there's no smoking, he blows smoke in their faces and disappears.
Mission San Buenaventura - a ghostly monk wanders the chapel and grounds of this Mission, and has even been witnessed strolling up on the main street before the mission. Ghostly chanting has also been experienced (like at almost every other mission). Another story tells the tale of a monk who died horribly in a fire eleven years after the mission was first built. The monk supposedly still wanders half burned around the grounds, causing temporary strange distortions to the holy relics he passes.
Santa Clara House - this restaurant is haunted by the ghost of a young Italian woman named Rosa. She had an affair and became pregnant by it. She committed suicide as a result, hanging herself in the attic. Now she has been seen near the upstairs ladies' room as well as peering from a second story window.
Valdez Alley - a ghostly woman in a long flowing white dress has been spotted here. It is believed that she was a Native American who died in the area.
Ventura City Hall - there are a few ghosts that have been seen haunting City Hall! The first is a ghostly judge, while the second is the notorious Elizabeth "Ma" Duncan who hired two men to kill her own daughter in law, Olga Kupzyck, who also happened to be pregnant at the time she was murdered. Duncan was the last woman to be executed in California. Additionally a phantom lady in a 1940s style blue outfit has been seen near the third floor elevators. The elevators often head to the third floor despite no one actually calling for them.
Ventura High School - the ghost of Toby, a teenage boy haunts the small old auditorium. Toby, a member of the school's drama club, had a big crush on a girl at the school and when she broke his heart he hung himself from the catwalk above the stage. Supposedly the ghostly image of his body appears hanging still to this day.
Victorian Rose - The Emperor's bedroom in this former church turned bed and breakfast use to be a choir loft. Back then a lady in the choir fell from the loft and died. Today, guests in the room have heard her singing. Other spirits in residence include a minister who tucks guests into bed, and a foot massaging ghost in the FleurDeLis room. Additionally footsteps have been heard passing through the lobby.
Zander Building - the spirit of an old man clad in an unbuttoned gray suit has been seen wandering this building.
Outside References: