Weird California - By Joe Parzanese
Addresses
Bum


410 Island Avenue
San Diego, California 92101

California Route 66 Museum


16825 D Street
Victorville, California 92395 ?

Dog Hero of World War II


19542 Beach Boulevard
Huntington Beach, California 92648

Dorsey


36600 Ghost Town Road
Yermo, California 92398

George Tirebiter


Trousdale Parkway
Los Angeles, California 90089

Penelope


300 East Hillcrest Boulevard
Inglewood, California 90301

Plaque to Bummer and Lazarus


Transamerica Redwood Park 600 Montgomery St
San Francisco, California 94111

Sally Stanford and Her Dog, Leland


Tracy Way
Sausalito, California 94965

Statue of Bosco


11925 Main Street
Sunol, California 94586

War Dog Memorial


22550 Van Buren Bloulevard
Riverside, California 92518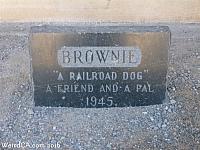 Canine Celebrities
California plays host to multiple memorials, statues, and plaques to our state's favorite canines. From rat catchers to war heroes, mail carriers to mayors, California has quite the amazing list of dogs! Here's a list of eight famous dogs (or a memorial) presented in roughly chronological order.
Bummer and Lazarus were two extremely famous rat catching stray dogs that resided in San Francisco back in the 1860s. Although other stray dogs were rounded up by the dog catchers, these two because of their extreme prowess at catching and killing rats were allowed to roam free. The local newspapers ran multiple stories about the pair, which were inseparable. They still have a plaque in San Francisco.
Dorsey the Mail Carrying Dog
During the 1880s, Calico actually had a dog deliver the mail! Dorsey, a black and white shepherd would carry the mail in little pouches strapped to his back Dorsey would take the mail from Calico to Bismarck and back again.
A statue of Bum lies in the gas-lamp quarter of San Diego, where back in 1886, Bum was San Diego's version of San Francisco's Bummer and Lazarus. He was half St. Bernard, half Spaniel and he was taken care of by those who lived in his neighborhood. Referred to as San Diego's first and only town dog, in 1891 he received San Diego's first dog license and was granted a tag for life. His likeness was used on all dog licenses issued. His statue is next to a statue of Bobby, a Terrier who lived in Edinburgh, Scotland. Edinburgh, a sister city to San Diego, likewise has statues to both dogs.
Apparently Penelope was also called Rex and was a dog that followed the Inglewood mail carrier on his route every day for more than thirteen years.
On November 25th, 1939, Inglewood put up a fountain in honor of Penelope. The fountain is quite large, and has a bronze sculpture of a dog on top of it. It is located in the median of Hillcrest Boulevard near the post office. You can park on the street, and cross it to the middle area, where a grass median lies. A plaque is set in the statue.
Brownie was a railway dog in Victorville back during World War II. It is said that he announced the arrival of every train coming up the track from Cajon Pass. Sadly he was one day run over by a train, and now has a grave marker outside the Route 66 Museum.
Sarge was a German Shepherd who served in World War II and was officially credited with saving the lives of nine people during the fighting in the South Pacific. He has a statue in a pet cemetery in Huntington Beach.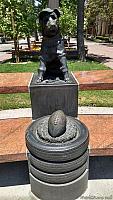 University of Southern California (USC) once had a string of dog mascots named George Tirebiter and his successors. George Tirebiter's first appearance at a football game was in 1940. At the time he was the unofficial mascot, but later became the official mascot on October 22, 1947. His last name originated from his practice of chasing cars along Trousdale Parkway, biting at their tires. He was all mutt, with the breeds that made him up being hard to classify from his appearance.
Tirebiter lead the marching band at USC home football games, even once entering the stadium in an armored car. He was sadly kidnapped by UCLA, during which time they shaved their letters into him. He got his vengeance though when he bit their mascot on the nose.
George Tirebiter I died in June 1950. On September 28th, 1950 George Tirebiter II became the new mascot. He lasted about three years. George Tirebiter III then held the office for five more years. In 1961, USC took on Traveler, a horse as their new mascot. In 2006, a statue was installed on campus commemorating all the George Tirebiter mascots, although the statue looks like George Tirebiter II.
Sally Stanford and Her Dog, Leland
In Sausalito at the Sausalito Ferry Building, there is a special drinking fountain built to honor Sally Stanford and her dog, Leland. The water fountain has two drinking areas, one for humans, and one for canines. The part for humans is inscribed with "Have a drink on Sally" while the part for dogs is marked with "Have a drink on Leland". Sally Stanford was both a famous bordello madame in San Francisco in the 1940s and later in 1972 the mayor of the town of Sausalito. Originally named Mabel Janice Busby, she adopted Stanford as her name, taking it from the university. Her dog is clearly named after Leland Stanford.
War Dog Memorial
In Riverside, at March Field Air Museum is the West Cost War Dog Memorial. A black obsidian pillar with a soldier and dog on it, the memorial is also surrounded by multiple tiles each remembering a different dog. Tiles give tribute to dogs that served in multiple wars, including World War II, Korea, and Vietnam.
Bosco, a black Labrador / Rottweiler mix became mayor of Sunol in 1981 and acted as mayor all the way until his death in 1994. A statue honors the famous pooch.