Weird California - By Joe Parzanese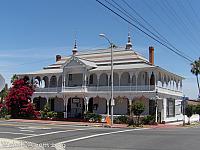 Hauntings
There's nothing like a good ghost story to send shivers down your spine . . . and California is filled with them. In this section you'll find a variety of ghosts and ghouls to scare your pants off while you pass time around the good old campfire.
As we add more and more to this section, we will eventually try and categorize the ghosts by location types. As you can see, we've already started doing that on the right with Bridges, Cemeteries, Houses, Schools, Ships, Roads, and Businesses.
We also started a county by county listing, but have so far only finished five counties: San Francisco, San Luis Obispo, Santa Barbara, Kern, and Ventura. More counties will be coming slowly.
Below are several hauntings that did not fit into a sub-category. Please click on a sub-category to the right for even more ghosts and spirits.