Weird California - By Joe Parzanese
Four Aces Movie Set

14499 East Ave Q, Palmdale, California 93591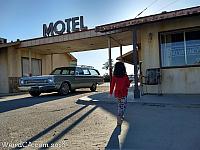 Northeast of Los Angeles, out in the desert is Four Aces. It has no neighbors, and is pretty much in the middle of nowhere and it gives you the feeling that it is a motel / gas station / diner possibly from a horror movie. That's because it sorta is. It's a popular movie set that has, according to IMDB, appeared in several dozen different movies or shows.
The set has a roadside motel, an old style gas station, a 1940s diner, and a bar, all complete with various period props. It bills itself as "ready to shoot" and it really is with some of the detail that can be found on the sets. The motel comes with several different motel rooms, bathrooms, and even a manager's office, while the bar can also be utilized as a little two slot machine casino. The gas station comes complete with a truck stop style restroom and there's even a phone booth on site. The diner screams authentic and comes with all the dishware you could imagine, while the main room itself still has an old TV and an old pay phone hanging on the wall next to an old fashioned license plate display. And should you need it, they have a bunch of classic and old cars available for your needs as well.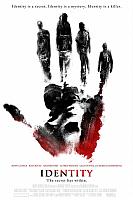 The entire setup gives you that feel of visiting an old fashioned, little motel or diner or gas station on a lonely road where things could immediately change to something sinister with just the change of the background music. It's probably made even a little creepier when you get this nagging feeling that you might have seen the locations somewhere before. And you have, in some fairly popular movies.
The main movies include the John Cusack, Ray Liotta, Amanda Peet 2003 thriller Identity. Yes, this is the motel where so many people died in that movie. As you walk around the hotel, you can easily picture Ray Liotta going into a murderous rage and chasing after John Cusack. Then comes two of Rob Zombie's movies: House of 1000 Corpses and The Devil's Rejects. And more recently, 2021's movie, The Forever Purge! So between those four movies, the horror vibe is strong at the Four Aces. Scenes from two of Dwayne Johnson's movies, Race to Witch Mountain and Faster, have also been filmed here. More recently, the 2019 horror movie #Followme had scenes filmed here as did the first episode of Steve Carell's 2020 Netflix series, Space Force, where Steve Carell's character pulls out of the gas station called Four Deuces. Lady Gaga filmed her Telephone music video here as well.
Note, there are usually security guards onsite. Professional cameras and photoshoots are not allowed without contacting the owners. But despite this, if you have desire to live out your nightmares of being killed by a serial killer in the middle of the desert, this is certainly the place for you.
Closest Weird
Outside Links:
First Created: 2020-07-27
Last Edited: 2020-07-27