Weird California - By Joe Parzanese
Pasadena Cheeseburger Plaque

1520 West Colorado Boulevard, Pasadena, California 91105
(1500 West Colorado)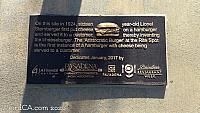 For some reason, in Pasadena, outside what use to be the LA Financial Credit Union on Colorado Boulevard, there's an interesting plaque one proudly proclaiming the location as where the cheeseburger was invented!
The year was 1924 and Calvin Coolidge was President. The site of the credit union was then a roadside stand called the Rite Spot, and the son of the owner, one Lionel Sternberger (with that name, how could he not have invented something involving a burger), decided one day to put cheese on a hamburger and then serve it to a customer, thus creating the cheeseburger! And the rest is history. Lionel was 16 at the time and has thus become famous, well, at least, in Pasadena outside the LA Financial Credit Union.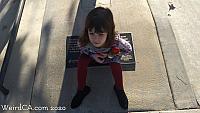 According to Pasadena it is the first instance of a hamburger with cheese being served to a customer. The Rite Spot's menu later had it listed for fifteen cents as "The Aristorcratic Burger: the Original Hamburger with Cheese". Of course, with any honor, there is always controversy, as some, perhaps those who are jealous of Sternberger's fame, have claimed that Lionel simply burned one side of the patty, and put the cheese on it really just to cover that up. Another story claims a homeless man entered the restaurant, had fifteen cents, and ordered a burger with any and everything on it. Regardless, on January 5th, 2017, the town commemorated the occasion with a plaque, placing it outside the credit union. The Pasadena Museum of History does have an old menu from the Rite Spot which proudly shows the Aristorcratic Hamburger. The menu is undated, but the printing company that made it went out of business in 1939.
Of course there are others who claim the title of Cheeseburger inventor, including a place in Kentucky called Kaelin's Restaurant that supposedly invented it ten years later in 1934, despite cheeseburgers having been on Los Angeles menus since the late 1920s. There's even a plaque calling it the "Birth Place of the Cheeseburger". And a Colorado drive in applied for a trademark on cheeseburgers in 1935. But, it looks like, possibly, most likely, Sternberger and Pasadena just might have the oldest claim to the meat patty with cheese!
Closest Weird
First Created: 2020-04-19
Last Edited: 2020-04-19