Weird Nevada - By Joe Parzanese
Pipe Dream

394 South City Parkway, Las Vegas, Nevada 89101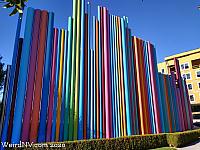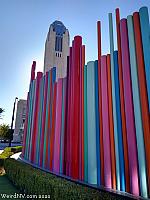 Located at the east end of Symphony Park stands a long line of brightly colored pipes. Called "Pipe Dream", this artwork was created by Tim Bavington and installed in Las Vegas in 2011.
Originally born in England, Tim Bavington now resides in Las Vegas. He has received recognition for taking music and applying it to his artwork, creating vertical bands of colors that represented musical notes.
With the piece, Pipe Dream, Bavington represents the famous musical piece, "Fanfare for the Common Man", the classic 1942 music from American composer, Aaron Copland. The artwork was commissioned by The Smith Center, and "Fanfare for the Common Man" appealed to their mission to be an inclusive hub for community members from all walks of life. The very recognizable musical piece was originally a tribute to those serving in World War II. You might recognize it from ceremonies recognizing the military, occasionally sporting events, and it has even been used by the news.
Pipe Dream is eighty feet long, with the tallest piping coming in at twenty six feet high. It is made of steel pipes, and has nineteen different colors. Each pipe os painted in automotive paint, and stands for a single note from the musical piece, the colors representing notes. B-flat is a bluish green while D is orange, and F magenta. Each pipe's width translates to the duration of each note in the musical piece. The last pole is unpainted, which is the musical rest at the end of the song. The artwork additionally has lights, showing up every two feet, these are the forty musical bars.
Closest Weird
First Created: 2021-01-23
Last Edited: 2021-01-23