Weird California - By Joe Parzanese
Ghosts of Lake Elsinore

Ortega Highway, Lake Elsinore, California 92530


The Chimes Building
201 West Graham Avenue, Lake Elsinore, California 92530


Chamber of Commerce
132 West Graham Avenue, Lake Elsinore, California 92530


Ambassador Hotel
164 South Main Street, Lake Elsinore, California 92530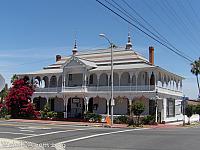 You might have heard about Lake Elsinore in regards to the lake monster, Elsie, that might live within its depths. But did you know that Lake Elsinore is apparently extremely haunted too! Since writing here about Elsie, I have additionally received many, many comments and stories about ghosts in the town. The legends are varied from Satanists in the hills to mysterious underground tunnels leading all over town to even a sighting of some sort of stingray / mothman monster that was supposedly seen in 2000!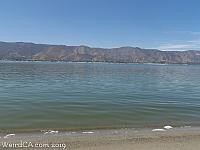 Many people reported having ghosts disturb them in their houses ranging from full on ghostly people watching them in their house to white cloudy figures moving past windows, to multiple reports of weird unusual small shadows. One resident report mysterious gunshots and booms occurring every night in their area of town. Multiple residents speculate that the entire town may be built on some sort of burial ground. Whatever the real reason, there does appear to be a high amount of ghostly activity being reported in the community.
Ortega Highway
Let's start with the twisty, treacherous Ortega Highway, also known as Highway 74, which gives its travelers excellent views of Elsie's home. The road was made famous for being a dumping ground for serial killers. It has had three different serial killers hide victims along it. Randy Kraft, Patrick Kearney aka the Trash Bag Killer, and William Bonin aka the Freeway Killer have all left victims behind hidden along the Ortega Highway's curves. Bonin supposedly left four victims hidden here. Some less famous murderers have also gotten in on the stashing bodies on the road act, including two brothers who left the headless, handless corpse of their mother along the road at mile post 14. She now haunts the road, of course.
In addition to her ghost, a ghostly terrifying clown stand on the side of the road only to disappear as you get to him, crazed gnomes have been reported, some strange skeletal thing climbs poles and watches cars go by, and even the Grim Reaper, himself, standing nine feet tall has been witnessed on the road.
The Chimes Building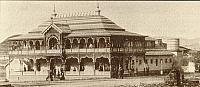 If a midnight drive along a haunted road isn't enough for you, there's the Chimes Building. Built in 1887 by Franklin Heald as the Crescent Bath House, it is now an antique store. The bath house closed in the mid to late forties, and was replaced with an interior decorating place. It is then that it acquired its name, the Chimes Building, due to all the wind chimes that were hung on it during this period.
People have experienced mysterious noises, echoing footsteps, and strange cries within the building. Cold spots have been felt, and there's stories of a ghost lurking in the basement. The two main ghosts include a young boy and a young girl. The boy, supposedly then the Mayor's son, jumped the fence, sneaking into the place, and unfortunately drowned on site in 1939. He now wanders the building's halls. The girl was eight when she was run over in 1898 by a horse and carriage. Back then there was a doctor's office also in the building, and the little girl died on a table inside the building. She has haunted the place ever since. She has a little doll that people have seen her leave in various spots around the building. Porcelain dolls in the store have also been reported being moved by her. Lastly the town founder is rumored to also haunt the location. President Grove Cleveland is said to have visited the location when it was a bath house.
Phantom Train Whistle
Lake Elsinore's Chamber of Commerce use to be the train station in town. Built in 1896, the Chamber has been in the building since 1987. It's been generations since the train came through, however, and the train tracks are also long gone. And yet, multiple people have and continue to report hearing a train whistle, nightly. Sometime near midnight, from between 11pm to 1am, several witnesses have stated that they often hear a train whistle in town. The sounds of a train have also occasionally been reported. A few witnesses have even reported seeing a light in the direction of the train whistle, as if the headlight of a train that was driving through. So it seems that even though the track and the train depot are long gone, the train still shows up every night.
The Ambassador Hotel
Along Main Street in downtown Lake Elsinore, sits the long abandoned Ambassador Hotel. The building is over 130 years old, built in 1888, and at four stories, is the tallest building in Lake Elsinore. And every night around 1am, a mysterious ghostly janitor appears on the roof, four floors up, and looks down on those in the street below.
Aimee Castle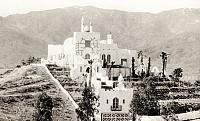 Are you surprised that there's a castle in Lake Elsinore? You probably shouldn't be. Aimee Semple McPherson a celebrity from Los Angeles who was a preacher on the radio in the twenties and thirties, had the 4,400 square foot, five bedroom, and six bathroom castle built in 1929. She sold the house in 1939, but it still is referred to as her castle. The house is gorgeous and offers up amazing views of the surrounding area.
It is said to be very haunted, but I haven't been able to figure out what the ghost story is. If anyone knows what type of ghost or haunting is occurring there, please let me know. But as a special bonus, there are supposed to be underground secret tunnels running under it, including one from the house to the lake!
Other Suspected Hauntings
There's a lot of belief that the abandoned Naval Academy is haunted. Built in the 1920's, it became the Elsinore Naval Academy in 1933, and was a school for both boys and girls from 1st grade to 12th grade. Supposedly the son of actor Bela Lugosi went there. It has been closed and abandoned since 1977.
An old adobe on Santa Rosa Plateau is haunted by a fleeing cowboy who runs away from the building, pleading for help. A neighborhood known as The Avenues is haunted by a Lady in White. Additionally I've heard mentioned that the following places are haunted, but I haven't heard what the story is: Machado House (an adobe that recently burned down in 2017), Lakeside Hotel, Tarzan House, the House of Siloam, and the water tower up on the hill. Now if there are actual stories of hauntings at these locations of if the general reason people think they are haunted is because they are creepy and abandoned, I'm not sure.
Whatever the story, with multiple ghosts, phantom sounds, creepy spirits in private residences, a lake monster, and a host of other strange phenomenon, it certainly seems like Lake Elsinore is one very, very haunted town.
Check out the comments on the Elsie article just to see some of the stories people have told about the various hauntings, and feel free to leave your own comment here and let us know more about them!
Comments:
Renee Miles of Vista , CA on 2023-08-25 said:

I lived in Lake Elsinore for years and I too have heard all the stories but the only ones I can confirm are the train whistle, ufo sightings and paranormal events at a house I rented on Corte Madera. I would often wake up to what sounded like a rocking chair in the attic and something dropping on the floor of the attic and rolling across my bedroom ceiling. My daughters also witnessed dark entities in the home.

Smith of Lake Elsinore, ca on 2022-04-07 said:

My son and his buddies (all rascals) played paint ball in the abandoned Tarzan house a few times. He has no paranormal events to report.

Amy Elizabeth Brown of Lake Elsinore, CA on 2022-03-09 said:

The old Naval Academy was actually open was open after 1977. Maybe not under the Naval Academy title but the school was Open out a Christian based school. Not sure if the entire school was in use, but it was definitely partially open.

Sondra Siegert of Lake Elsinore, CA on 2021-10-26 said:

The Military Academy was a school in the 70s and 80s (I graduated from there in 1988 but it was still a school for a couple/few years after). Mr Conklin was said to haunt it but I never saw anything. Mrs Conklin is also dead now so maybe they both protect it. She was very nice.

Tim of Lake Elsinore, Ca on 2021-09-09 said:

I've never heard the lake monster story. Have to call you on that one seeing as the deepest part of the lake is a mere 27ft. Now, unless "Elsie" is a giant carp or catfish, no chance of it being anything substantial. Sorry.

Brenda R Partida of Suncity, CA on 2021-06-24 said:

I use to live in elsinore .it is a dark place .I've been inside of that hotel the one on main street it defently has paranormal activity .the real name of the hotel is called (The California inn)inside I located a secret door in the kichen next to the dinner behind some old cabinets people have played spirit boards inside that place theres something adnormal for sure

Lilly on 2021-05-26 said:

I seen a man on the top of Ambassador Inn around 11 years ago after 1 a.m

Payasa of Lake Elsinore, CA on 2021-03-22 said:

I currently live in Elsinore. My home is haunted. It's been haunted the whole time I've lived here.

Modesty Gomez of Lake Elsinore, California on 2021-01-12 said:

I remember my sister and I lived in a blue two story apartment on buena vista st off of grand avenue with my mother on the top floor and my sister told me years later that I had walked into her room didn't say a word to her and she looked into 'my' eyes and they were pitch black and I just turned and walked away
First Created: 2020-06-27
Last Edited: 2020-06-27