Weird California - By Joe Parzanese
This Ole House

740 W Foothill Blvd, San Luis Obispo, California 93405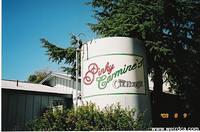 This Ole House was originally built as an actual house in 1917 by Eugene Johe as a wedding present for his son, Attilio. It lies on the outskirts of San Luis Obispo, and eventually operated as a brothel during World War II (perhaps called the Callaway House during this time). It was later converted into a restaurant, This Ole House, in 1950. It fast became a favorite of local ranchers and cowboys . . . and later ghosts!
The Old House started off as a simple restaurant that began by serving only fried chicken and potatoes. Local ranchers and cowboys enjoyed the place, and liked getting a drink there. Shooting contests often took place at the cowboy bar. As the place prospered additions were made to the ranch house, but so grew the tales of ghosts.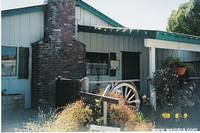 The restaurant is haunted, rumored to be the home of a ghost named John Vittey formerly of Autry, Utah. One story claims he died in a fire on the second floor and that he still haunts the upstairs. Additional ghosts have also been speculated.
During this time, the ghosts made themselves known by moaning, flashing lights, moving chairs, and cold spots. Shadowy forms were seen in the kitchen while the sounds of pots and pans banging were heard. A manager reported seeing a hazy misty man standing in his office, but the strange man simply disappeared. An opaque white figure was also reported drifting through walls, and a glass flew off a shelf at a 45 degree angle.
Other stories relate of a poker hanging by the fireplace swinging back and forth on its own, a jukebox that would start up all by itself and play only "The Days of Wine and Roses", and of a glowing presence that peeked through the curtains at night. Things were often reported being in places where they hadn't been left and candles often blew out on their own. Additionally cowboy boots have been heard stomping around on the upper floor when no one else has been in the building.
Sometime in the nineties, This Ole House eventually closed its doors and became AJ Spurs, a steak place, which didn't last long in the location. A family style Italian place soon took over the building. Called Pinky Carmines, it also closed soon after opening. The location known as This Ole House sat vacant for a few years before in late 2006 construction began on renovating the house. In 2007 Andrew Adams took over the place and set up The Clubhouse at This Ole House.
Shortly after moving into the location, workers claimed that glasses floated off the bar top and smashed against the floor, so apparently the ghost has stuck around through all the construction. Adams also discovered a false wall within the building during the renovations. Within, were old menus, employee logs, and stories of ghosts that had haunted the location since the thirties!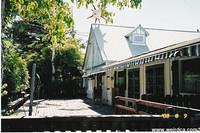 Coworkers of the Clubhouse experienced a host of new spiritual activity, creating new ghost stories for the location. One employee saw a strange figure on the second story, only to have the figure disappear before their eyes. The owner at the time, stated that he enjoys having the ghosts and that he feels they approve of what he had done with the place and are protecting the building.
But by 2011, the same bad fate that has happened to every other business in the building befell The Clubhouse and the bar / restaurant closed. Financial troubles hit the restaurant and the liquor license was pulled back in January of 2011 after the business fell behind on its state taxes. Additionally neighbors complained about noise issues from the establishment especially on the nights that the business had entertainment.
By 2012 though, the place had been sub divided into two residences and tenants had moved in. Now the massive place with the massive parking lot is simply a building with people renting and living in it. Do you think they know that they have tenants living rent free with them? One wonders if they have encountered any of the spirits lurking within the walls of This Ole House.
Closest Weird
Comments:
Mark Halliday of Salinas, California on 2023-09-27 said:

Florence "Pat" was my grandmother. When we visited she used to scatter quarters under the table. My brother and I would put the quarters in the jukebox. The songs Winchester Cathedral and the Hawaii 50 theme remind me of Pat

Ross arnson of Inkom, Idaho on 2022-08-24 said:
Daniel of San Luis Obispo, CA on 2017-09-09 said:

I live at the house now and haven't noticed anything too strange yet. May play that song...

Susan of Nevada City, CA on 2016-01-16 said:

Wow, my parents brought our family to eat there in the 1950's and 60's. I was just commenting to my sis about it when I found your website. Too cool. Don't remember ghosts though. I remember it being knotty pine inside and painted bard red at that time. I loved going there and remember eating out of those plastic baskets, fried chicken. Really brings back memories.

Madi Ropner of SAN LUIS OBISPO, CA on 2015-10-26 said:

When Andrew ran the Clubhouse he had a Blues Jam on Wednesday nights. Many of the musicians were regulars every week. On a Wednesday night, the second Wednesday in October, Johnny Zane was playing drums. This was unusual because he was a guitarist and singer. He was playing the Doors tune LA Woman. Instead of singing the line "Save Our City" he was singing "Save My Soul". After the song was over he went to the men's room in the bar. I went to the ladie's. As I went out, another man opened the Gent's door. Johnny was dead and laid out cold. I could see his green crocodile boots and his legs on the floor. Paramedics came and he was gone. He died in the Men's room in the bar. The next week I was there on the Wednesday night and I walked back to the kitchen swinging doors to find the waitress. A big measuring cup flew at the door...no one was close by... The next week was Halloween. Andrew hired a reggae band on tour from Jamaica called Dub Cru. My neighbors, a few friends and I went...we and Andrew and staff were the only ones there to see this awesome band...very strange. We were all dressed like pirates. I was standing talking to my neighbor, Bridget, when I felt something on my legs. (We were wearing tights and corsets etc) It felt like my tights were ripping. Then Bridget's eyes went wide...my skirt was around my ankles! I was "pantsed" by Johnny Zane! I looked at Andrew and said, "It's Johnny!" Everyone in the room witnessed this....

Austin of San luis obispo, Ca on 2015-08-04 said:

I'm moving into this house in five days with a group of 16 guys. Wish us luck!

Matt Morris of Folsom, CA on 2014-02-16 said:

My aunt and Uncle - Pat and Whitey Arnson are the Folks who started the restaurant.

Anonymous on 2013-10-27 said:

This building has been turned back into residential housing. It looks like it may have 3 or 4 apartments. I drive by it often.

Daniel of Pismo Beach, ca on 2013-08-16 said:

I stayed that place in the 1960's, their is a big room by the stairs, I saw a male figure walk around the big back room and then go up stairs. I was later told that that he was a ghost, they saw him all the time.

A.J. of Paso Robles, CA on 2010-09-24 said:

I wandered into the second story as a child once when it was still This Old House. I met a man who had asked me why I was there. I began to tell him that I was there eating with my family when my father appeared behind me and asked who I was talking to. The man I had been talking to was nowhere to be found.

Linda of San Luis Obispo, California on 2010-02-07 said:

"This Old House" was a wonderful place to eat. Being a native of San Luis Obispo, spent many a "before the prom night" dinners there, lot's of special moments. Employee's did say that when they would leave at night and come back the next day, that chairs would be moved away from table or moved into another room, silverware would be moved or be gone. Was very sorry to see it close.
Outside References:
First Created: 2010-02-07
Last Edited: 2013-11-02