Weird California - By Joe Parzanese
Mugu Rock

Point Mugu State Park
Malibu, California 90265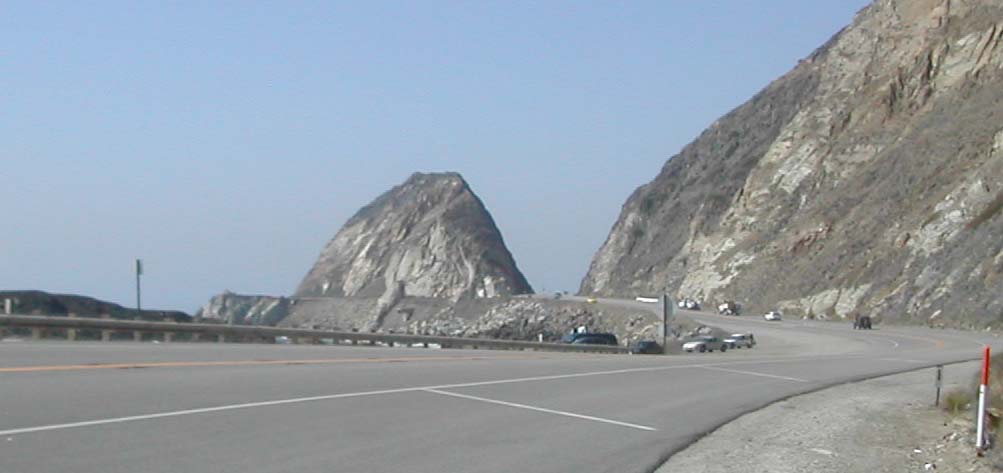 Point Mugu, along the coast near the Channel Islands, is probably best known for the crash of Alaska Airlines Flight 261 on January 31st, 2000 in which all on board died.
Despite that, ancient legend states that Mugu Rock use to be the beautiful Native American Princess Hueneme. The seaweed around the rock use to be her unfaithful husband. The story states that the beautiful Princess lost her husband to a powerful evil woman who bent her husband's will to her. Eventually, the beautiful princess was able to win her husband back by breaking through the spell, but in despair over the events, she threw herself into the sea, becoming Mugu Rock. Her husband upset over this, chased after her into the sea and became the seaweed around the rock.
There is also speculation about the area near the rock being haunted by The Lady of Mugu Rock. Additionally at least one suicide has occurred there in 1994 when a man reportedly drove his car into the rock rather than face molestation charges.
Closest Weird
Comments:
Rhonda Dee Lillie of Santa Paula, California on 2022-09-21 said:

I grew up in Oxnard. I attended Port Hueneme High. I still live in the area, and I am currently staying on the base at the beach motel and spent all afternoon on the beach just north of Mugu Rock, in fact took several photos of it and videos today. I grew up driving out to it weekly. I still drive past it frequently. I learned to drive on Highway 1. The legends of Mugu rock are interesting. First of all Mugu "Rock" is a fairly new feature. As Pacific Coast Highway used to go around the western most edge of "Mugu Rock" back when it was not a rock but part of the edge of the hillside. A storm washed that part of PCH into the ocean. Cal Trans had to repair PCH and their solution was to cut into the hillside at Mugu point. This created a big "rock". Legend has it that a Chumash princess (Princess Hueneme) leaped to her death off that tip, prior to it becoming Mugu rock. The Chumash princess legends are all different as told by white people. I read the Chumash version (find it online). Anyways, many people who grow upon this area find themselves driving out to Mugu rock when they're needing time alone, feeling sad, feeling upset, it draws people. It's a beautiful location, a beloved landmark. A comforting aura felt by many. To anyone who believes it's cursed, all I can say is that I've never heard that or felt that when there, quite the opposite. Accidents happen all along the PCH, mostly further south nearer to Malibu. Mugu rock is a very special place to many of us. I've driven there many times, sat there many times. Especially in my younger years whether due to a broken heart or just needing to be alone. It's always been a make out point too. By the way, Highway 1, the Pacific Coast Highway runs from Southern California to Northern California, not from Eastern California to Western California. While the 1 has curves and turns where at points the road is temporarily facing the sun (Eastern horizon or Western horizon) it is never called East 101 or West 101, not ever. I drive it a lot. Same with the 101. Two separate North / South Routes that sometimes merge or cross but never ever become known as an Eastern or Western Highway / Freeway or Route. Anyone who says they are the same route are wrong. They're one or the other but never both. Sometimes they change into each other but only as a way to get back to the original route. Like in Oxnard the 1 turns into Oxnard Blvd, and from there Oxnard Blvd leads into the 101 and further North the 101 then has a point where you can get back onto the 1, as the 1 is not continuous, it has many breaks and requires the use of other streets and freeways (like the 101) to get back to the 1. But they aren't the same. The 101 is mostly inland and the PCH 1 is always coastal with a view of the ocean.

Mark of Bay Area, CA on 2022-01-16 said:

Grew up in Montalvo. We used to climb on the little rock on the South/East pullout during the early nineties I remember it having some good crack climbing features, but was also slick and damp like most coastal climbing. There were a few old bolts above on the main part of Mugu rock, but we never made it up there. It is a scenic stretch of CA coast with much less development then most of the areas south of the Ventura County Line. Mugu rock represented starting an adventure down the coast and was always a welcome sight when driving back. Like a big gate that lets you in to the Oxnard plains.

Lizz of Los Angeles , California on 2021-02-06 said:

I do believe there's something paranormal there after the plane crash and after all the other stories where people have died there because my uncle also died there he went fishing with a friend and got pulled in the water where he drowned this was on September 14, 2018

Saundra of CA on 2018-08-12 said:

PCH use to have the scenic route that went outside pt. Mugu rock. There use to be a stone wall too. But in the mid 80', a storm damaged it so much, it was finally closed. Previously, damages were repairable, but costly. CalTrans decided it was futile to keep trying to save it. Hence the chain link fencing.

Wayne Roten of Rosamond, CA on 2018-07-14 said:

I have read about the plethora of car accidents near or at Point Magu Rock. Many of these have led to the deaths of the occupants. The place just has bad vibes.

John of Moorpark, California on 2017-11-08 said:

I work on the navy base at Point Mugu and I see Mugu Rock every day. Very nice. There is a nice hiking trail that goes to the top of Mugu Peak.

William Bahr of Port Hueneme, Ca on 2017-04-04 said:

The "Chumash legend" part is silly. In the time of the Chumash Mugu was a promontory and not a seperate rock. The rock as we know it today was creared by the cut that holds highway 1. Also the beaches from Mugu north until 50 mile beyond Santa Barbara all run east to West. My home for instance in Port Hueneme face south across Hueneme Beach.

Wayne Roten of Agoura Hills, CA on 2016-12-16 said:

I have heard more stories about people driving into the ocean near the Point Magu Rock than you would believe. Two young friends of mine, both under age, got drunk, drove onto the dirt near the rock, spun out of control and their car flipped into the ocean, killing them both. I get bad vibes every time I drive past that rock.

movonup of Malibu, California on 2014-07-22 said:

Everybody's somewhat correct about the 101Hwy is running in all directions. If you take the 101 "North" from Camarillo past Santa Barbara you're actually heading "West"/"North West" as the lower elbow of California is running "West". Soon after Goleta, California Hwy101 makes a sharp turn due "North" and heads towards Santa Maria Valley and beyond. Right at the tip of the "Elbow" is Vandenberg Air Force Base where they launch rockets militarily and for civilian purposes. Amtrack runs right along the coast there, and when you begin to head "North" above the "Elbow" you are facing "West". It is simply gorgeous. Hope that helps. Happy Tuesday!

John Hill of Leland, NC on 2013-08-20 said:

Hi, I lived in Camarillo from 1999 to 2006. the 101 freeway does go north-south, but look closely at a map. it does actually run east-west thru parts of it and thru ventura county! I miss that place!

SANDRA WISEHART WHEELER of DAYTON , OH on 2013-05-03 said:

Grew up in Port Hueneme. Mugu Rock was created long after Chumash; was part of the right side hill until cut off by highway 1. Wish they'd used a tunnel instead, as Mugu Rock has severely eroded since the time I grew up (1960s).

David Fruhling of Gold Hill, Oregon on 2012-12-26 said:

To "ma" of Woodland Hills. Yes, I am familiar with the 101 freeway. It cuts through Thousand Oaks, home of Jungleland (see: "Weird California, Jungleland") I can remember when there was no 101 freeway and it was a 2 laned road called "Ventura Highway". I remember the pass called "The Conejo Grade" being 3 lanes...1 up, 1 down and the center lane for passing. A lot of gruesome wrecks because of that middle lane. We used to commute from Thousand Oaks to school in Camarillo 5 days a week, twice a day in the late 1950's. I'm also familiar with the Pacific Coast Highway. If you look down the side heading north on the 101 you can still see remains of the road before the exsisting route. It's a winding switchback concrete road. I was born on the U.S. Navy Sea Bee Base in 1954. I grew up/lived in Oxnard, Somis, Moorpark, El Rio, Nyland Acres, Simi Valley and Thousand Oaks. I know the signs say "101 North/South" at points but that doesn't change the fact that north/south routes are odd numbered and east/west routes are even numbered. Also doesn't change the fact that the Pacific Coast of the United States faces west.

ma of woodland hills, ca on 2012-11-08 said:

In reply to odd and even # highways, I know for a fact that Hwy 101 is referred to on signs as north in some locations, and west or east in others, depending upon where you are at. If you live in T.O. and ever come to the valley, you'd know this. jus sayin'

David Fruhling of Gold Hill, Oregon on 2012-10-27 said:

I know the U.S. is not a "square" but you have to know the basics. All north/south roads/highways are odd-numbered. All east/west roads/highways are even numbers. Therefore, we go by that. If you say the Coast Highway goes east and/or west, you are making no sense. The west coast goes south/north as does the east coast. I'm not "nit-picking", I'm just telling it like it is. It's this way to avoid confusion to people who don't have any directional sense. To sum it up, the Coast Highway does not go "east" or "west' anywhere. It goes from the Mexico border to the Canadian border which is, last time I checked, south to north. There is bends in the roads/routes but they are NEVER classified as "east" or "west". I had one guy say that the Rock Store is in Malibu, which is on the coast. The rock Store is in the Santa Monica Mountains, no where NEAR the coast. I'm just trying to keep things clarified. I grew up in Ventura County (Thousand Oaks) and that's the way it is. Even #'s, west/east. Odd #'s north/south. Easy to remember.

Therese of San Diego, CA on 2012-10-02 said:

No nitpicking required. All it takes is glancing briefly at a map to see that there are portions of both coasts that do not run directly north/south. The US is not a giant square.

David Fruhling of Gold Hill, Oregon on 2012-07-24 said:

I forgot to mention on the 2 guys sliding down the dune on the car hood. The story had it that they got hit by a car when they slid into the highway and were killed. Anyone heard that story and know if it was true or not? Mr. Bahr, I'm not nit-picking. Last time I looked at a map, the West Coast goes north and south. So does the East Coast if that helps.

Rich Allen of Alamogordo, New Mexico on 2012-07-22 said:

I was born and raised east of Camarillo in Santa Rosa Valley and lived in Ventura County from 1950 to 2008. In the summer of 1966 three of my buddies from Adolfo Camarillo High School spent a few weeks living up at the top of the sand dune just east of Mugu Rock. They had to carry their food and water up to the top, which was a royal pain. Back in the 1920s, most of the land along the coast from Santa Monica to Point Mugu was owned by The Rindg Family and was called The Rindg Ranch. The negotiations for constructing the Pacific Coast Highway across Rindg property was quite interesting. I had a chance to talk to Jimmy Decker back in the late 1970s about the history of the area. Jimmy Decker's father grew up in the area back around 1900, and Decker Canyon and Decker Road are named for his family. Back in the 1970s, Westways Magazine (published by The Automobile Club of Southern California, AAA) had several interesting articles about the history of the Mugu Rock and Malibu area.

David Fruhling of Gold Hill, Oregon on 2012-03-20 said:

Anybody remember the big sand dune/slide south (yes, south) of Mugu Rock? I heard a story about these guys sliding down it on a car hood and sliding right into the Pacific Coast Highway (that runs north/south). Old Urban legend? I once hiked almost to the top. What a pain! I know it's still there and all. I was just wondering if anyone had any good (or bad) stories about it.

William Bahr of Port Hueneme, ca on 2012-01-24 said:

David nit picking is Ok. Nevertheless, I stand by my statement and here is why. Your assessment would be correct if all of the west coast water front went North to South and while the coast line does over all. some parts (in large bays for instance) face south and a few even North. Ventura county if you check of Map has predominantly South facing beachs Hueneme Beach for instance. Where I live when some one looks to the sun rise it does so directly East and it comes up right over Mugu Rock. It is pretty by the way. In any case the beach between us therefore is a east to west beach. Also the next beach past MUGU is to its East not it's South. It is only after that that the coast turns South and Malibu has a west facing beach like most but not all on the West Coast.

violet holt daraitis of rocklin, ca on 2011-12-03 said:

I grew up in thousand oaks and knew jungleland very well. we moved there in 59 and lived on Hampshire Road. my brother John worked at Jungleland about 1968. i see a couple familiar names on this site- anita mcreynolds and linda heller are names i remember.

VeroniKa of Oxnard, CA on 2011-11-09 said:

I was born in Port huenem and raised in Oxnard all my life...I have this weird memory from when I was a little..my uncle took me and my cousin to Mugu Rock and I came across a big rock (to me at the time the rock was big) that had an eye on it...I freaked out when the eye started blinking. Has anyone seen or heard of this as well? I will never forget it!!

David F. of Gold Hill, Oregon on 2011-09-21 said:

I look at the east and west coasts as going north and south. I have had arguments with truck drivers that say on the 11 meter (c.b) radio "I'm westbound on the 101" going through Oxnard. Maybe, just maybe the 101 kind of goes west for a few miles but, the freeways/interstates have odd numbers going north/south and even numbers going east/west. To say the shore/beach is east of Mugu rock is not only wrong, it might confuse people. Not me, of course. You got to look at the layout of the United States. The coasts (excluding the gulf) go north/south. I am from Thousand Oaks, born on the Port Hueneme base,(1954) and for 38 years, Ventura County was my stomping grounds. I always rode my Harley north and south on the coast highway (1). It never went east or west. I can remember when the Conejo Grade was 3 lanes! One up, one down and a center pasing lane.

J. W. of Ventura, CA on 2011-09-05 said:

A strange bit of geography that took me a while to get used to...The coast at Point Mugu actually runs east/west. In fact, from Long Beach to Point Concepcion most of the California coast does. So I have to defend William Bahr, a local, on this point.

David Fruhling of Gold Hill, Oregon on 2011-08-13 said:

Not to nit-pick, William Bahr, but the only beach "east" of Mugu Rock would be on the Atlantic shore. The beaches would be north or south of Mugu Rock.

Bruce S. of Albuquerque, New Mexico on 2011-06-26 said:

I was born in Oxnard, grew up in El Rio, and lived my high school years in Ventura. I remember watching the whales from the rocks at the waters edge at Mugu Rock. My favorite memory was when I was a senior in high school, accelerating into, and flying out of the "Mugu Rock Curve" (either direction) in my very first car; a 1966 MGB! Great thrills and fun!!

William K. Bahr of Port Hueneme, Ca. on 2011-06-09 said:

While I appreciate the attempt at adding to our local color there are a couple of problems. First prior to the 1920s there was no "Mugu Rock". it was Mugu Point and did not come into being as a "rock" until the road was cut on the land side of the point forming what we see today. As a matter of fact what the Chumash found sacred was the beach just east of the point. Also If I remember correctly the rock was the Male lover. The princess who jumped into the sea became the seaweed the suarounds the "rock" most of the year. In any case Mugu is a wonderful asset to Ventura County how ever it came to be. Just wish people would understand the natural dangers it provides.

David Fruhling of Gold Hill, Oregon on 2009-06-26 said:

I notice the rock in a lot of automobile commercials. My old Harley stomping grounds. Used to get off of work in Camarillo and ride down to Neptunes Net and kick back. Does anyone notice that the Coast route used to go on the outside of the rock? Some roadbed still there (last time I was there was about '86)

CC of OXNARD, CA on 2007-10-02 said:

I believe the legend of the Indian Princess, because one day I was over there and I told my boyfriend "Hey look someone just jumped off the rock" so we both went to look to see if anyone jumped and no one was there.

Skip Smith on 2007-02-07 said:

The tar seep in Carpenteria used to be used by the Chumash to seal their canoes, and is pretty weird to see --- black tar oozing out of the cliff and spilling onto the beach.
Outside Links:
Outside References:
First Created: 2006-06-10
Last Edited: 2006-06-10