Weird California - By Joe Parzanese
Pearsonville, Hubcap Capital of the World

Pearsonville, California 93527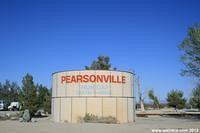 Pearsonville is now a ghost town. Although the 2010 census states that 17 people live there (down from 27 in 2000), we couldn't find any when we stopped by to visit with the Uniroyal Girl off Highway 395. The green city sign announcing the town as Pearsonville has an elevation listed on it, but no population metric.
Pearsonville was originally known as the Hubcap Capital of the World due to the over 80,000 hubcaps that had been collected by Lucy Pearson. Back then, the town apparently consisted of an enormous wrecking yard, an extremely bizarre playground, a large water tank proclaiming the town the Hubcap Capital, and thousands upon thousands of hubcaps. The Hubcap Lady, a Uniroyal Girl stood in front of the playground and supposedly there was some sort of stealth car on display.
Now however, the wrecking yard is closed, surrounded by a high fence complete with chicken wire ontop; the playground is falling apart, and the only thing open in this ghost town is a Shell station that has a Subway sandwich eatery inside it.
The Uniroyal Girl is still there, watching over the highway, but the wrecking yard looks terrible, complete with creepy "Stay Out" signs, and the Playground is in ruins with the exception of the astro-turf around some of the playground jungle gym pieces.
Sadly, also, the thousands and thousands of hubcaps are long gone.
Closest Weird
Comments:
Deborah Davis of Seminole, Okla on 2023-03-15 said:

My family and I lived there 88-90 My husband 2 Sons and I.We loved it there!!!Husband worked on a geothermal drilling unit. The boys went to School. We would walk all over the desert and close to the mountains. There was a cafe there where the few of us who lived there would hang out. The boys and i got to help Mike and hos wife and daughter.The boys made some good friends there. So many wonderful memories.

Deborah Davis of Seminole, Okla on 2023-03-15 said:

I forgot...the dirt race track was awesome!!! Watching Navy procedures was amazing!!!Watching the boys make their own racetrack for their matchbox cars was soothing. I loved our time there

Gerben on 2021-12-07 said:

We stopped in Pearsonville when we were on vacation in the US one a long road trip. We had a coffee in the diner that was still open (part of the gas station maybe?). The hub cap capital of the world was still in operation then. Just found out about its demise. Too bad. Fond memory.

Maxine of Los Angeles, CA on 2018-04-16 said:

We used to have a place in Kennedy Meadows and stopped by often to talk to Lucy. What a treasure she was! Besides hubcaps, she knew if there was any part for any make vehicle in that junkyard and pretty much knew where to find it.

Pat Frazier of phoenix, az on 2016-11-16 said:

My dad raced there when I was a kid. 1976-77 stocks...we knew the Pearsons very well. Lucy was the friendliest. Too bad the 'town' is in this shape. Awesome memories of Pearsonville every other Saturday.

David Fruhling of gold hill, Oregon on 2015-11-08 said:

According to my latest Hemming's Motor News (11/2015) Lucy has begun selling hubcaps again. Ad reads as read: "For sale: hubcap collection, estimated 1/2 milling [sic] Pearsonville Hubcap Capital of the World, Lucy Pearson. 760-377-7238, Pearsonville, CA, 93527"

Melissa Sherburn on 2014-10-20 said:

I grew up there for 12 years and we left in 2000, my sister's and I used to play at that park as kids with the other kids that lived there, we used to have the best July 4th shindigs at that park with one of the best fireworks shows, bands chili cook offs, pig roast in the ground. Great memories! My sisters and I would work for Lucy by cleaning all her hub caps! She was the sweetest lady!

John O'Rourke of Flora , Indiana on 2014-07-15 said:

I was stationed at China Lake (Ridgecrest,Ca.) in the early ninties. I worked for Don Pearson at the race track for over a year. I have the utmost respect for the Pearson Clan. Lucy is a gem. Don would give the shirt off his back to a complete strange. I'm proud to say, that those memories will always be in the back of my mind

David Fruhling of Gold Hill, Oregon on 2013-10-24 said:

Pearsonville. Never made it there. I may have passed through as a child with the folks in the late 50's/early 60's. I wonder how Lucy collected so many hub caps in a town so desolate. I guess 395 had a lot of traffic. Did she just walk/drive around picking them up or did people donate them? I can imagine donators driving by and just tossing them out as they passed. In the slim hopes that James "Hobo" Pearson ever reads this, get in touch. daviddaveinternational@gmail.com
Outside Links:
First Created: 2013-06-04
Last Edited: 2013-06-04