Weird California - By Joe Parzanese
Slabs of US 40 and Lincoln Highways

10529 Ophir Road, Auburn, California 95603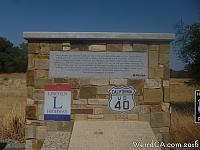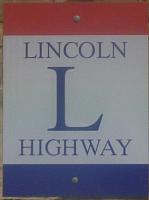 Established in 1913, being formerly dedicated on October 31st, 1913, the Lincoln Highway was the first transcontinental road for cars in the United States and it went over three thousand miles from Lincoln Park in San Francisco to Times Square in New York City! It ran through 13 states including California, passing through Nevada, Utah, Wyoming, Colorado, Nebraska, Iowa, Illinois, Indiana, Ohio, Pennsylvania, New Jersey, and finally New York. Later a portion passed through West Virginia due to a realignment in 1928. Eventually, the Lincoln Highway was replaced by the numbered highways of the new US Highway system, with US Highway 40 replacing much of the Lincoln Highway in California. US Highway 40 was eventually bypassed and replaced by Interstate 80, which begins in San Francisco, travels east through the Sierra Nevada's, before entering Nevada on its way to Reno.
Near Auburn in Placer County, the portion of the road that is now Ophir Road, was originally US Highway 40, and before that it was the Lincoln Highway, portions of both roads still lying under Ophir Road. Interstate 80 runs parallel here. In 2014, Placer County Water Agency dug up part of Ophir Road so they could place down a new pipeline under the road, and discovered the old roads underneath. The Water Agency saved a pavement slab that it had dug up, and created a roadside monument to the previous roads. The monument was erected in February 2014.
This monument was erected in recognition of the historical significance of this transportation corridor by the Placer County Water Agency and dedicated to the California Chapter of the Lincoln Highway Association. Ophir Road was formerly U.S. 40 which was the main route over the Sierras until the construction of Interstate 80. Prior to U.S. 40, the Lincoln Highway traversed this section of Ophir Road. The Lincoln Highway, the first road across the United States, was conceived in 1913 by the Lincoln Highway Association which originated to promote automobile travel in the United States. The pieces of pavement below were taken from these two historic segments of highway.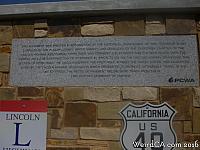 Closest Weird
First Created: 2022-02-26
Last Edited: 2022-02-26