Weird California - By Joe Parzanese
Eggheads

Bookhead
Park J Shields Library, Davis, California 95616


Eye on Mrak
Mrak Hall Drive, Davis, California 95616


See No Evil / Hear No Evil
Mrak Hall Drive, Davis, California 95616


Stargazer
Near East Quad Avenue, Davis, California 95616


Yin and Yang
Hutchison Drive, Davis, California 95616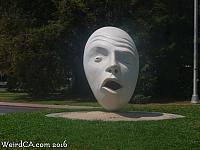 If you ever visit the university, UC Davis, you'll find several sculptures of egg shaped heads, seven heads spread across five different installations. These are the UC Davis Eggheads, and they were created by artist and professor Robert Arneson. Arneson, who arrived at UC Davis in 1962 as an art teacher, created the eggheads for the university, right before he died. However, the sculpt can be made by Arneson's estate to make more casts of the sculptures.
Each of the seven heads weighs several hundreds of pounds and were installed anywhere from October 1991 to May 1994. The sculptures were originally commissioned in 1989, and completed before Arneson died in 1992.
The five installations are:
1- See No Evil, Hear No Evil
2- Eye of Mrak
3- Bookhead
4- Yin & Yang
5- Stargazer
"See No Evil, Hear No Evil" consists of two eggheads with no ears talking to each other out of the corners of their mouths. They are hanging out in a grass circle, and were installed there in November 2009. Originally they were across the street, having been put in place back in May 1994.
"Eye of Mrak" is north of the administration building. The egghead is balanced on the top of its head, which is hard to tell from the back, as there's just a single unblinking eye on that side, near the top of the sculpture. From the back it sorta looks like an egg with a big eye near the top, with some ears sticking out the sides, while the bottom is smooshed where it rests on the ground. On the front though, the face is upside down and grinning, the eyes squinting, with a wrinkled brow near the ground.
"Bookhead", located near Shields Library is an egghead who has his face down in a book, nose buried in it. Literally, the sculpture has a book laying open with an egghead face down, nose and eyes directly pointed down into the book. It was installed in October 1991, and apparently students will kiss it or rub it for good luck.
Installed in 1992, "Yin & Yang" consists of two separate eggheads, one egghead has its eyes closed while speaking, and the other is apparently annoyed at him, laying on its ear, not facing the speaking egghead. Another copy of Yin and Yang could, at one point, be found on the Embarcadero in San Francisco, near the Ferry Building, but I believe they have been relocated.
Unfortunately I do not have any pictures of "Stargazer"m the final egghead installation. Installed in May 1994, this egghead is staring straight up with a smile on his face.
Outside Links:
First Created: 2022-01-28
Last Edited: 2022-01-28