Weird California - By Joe Parzanese
Elephant Seals

Route 1, San Simeon, California 93452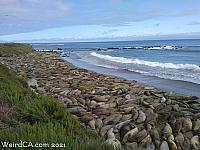 On the coast, north of San Simeon and south of Ragged Point, while driving along California Highway 1, you will come across Piedras Blancas. Roughly three things seem to exist along this stretch, an abandoned motel, the Piedras Blancas Lighthouse, and the Piedras Blancas Elephant Seal Rookery. Here more than seven thousand elephant seals live, and it makes an excellent viewing opportunity to watch these large animals.
There are two types of elephant seals, northern elephant seals and southern elephant seals. Only northern elephant seals are born and live at Piedras Blancas Rookery. Adult male elephant seals reach 14 to 16 feet, and weigh somewhere between three and five thousand pounds! Meanwhile an adult female is usually 9 to 12 feet in length and can weigh around 1,800 pounds. The elephant seals are born here, and then return to molt, mate, give birth and rest. When not at Piedras Blancas, they are usually off near the Gulf of Alaska looking for food, which mainly consists of squid, stingrays, octopuses, eels, small sharks, and penguins. Elephant seals usually dive under the water one to three thousand feet, with a maximum depth of over five thousand feet.
The best time to view the elephant seals is from December through March. By late January, most of the births have occurred. Near the beginning of May, it is the peak time for molting. In 1990 the first elephant seals began arriving at Piedras Blancas, coming from other rookeries to the north and south that they felt were too crowded. In February 1992 the first elephant seal pups were born. By 1996 the number of pups being born had reached almost 1000! Now a days more than 25,000 elephant seals arrive along an eight mile stretch of beach.
The rookery is just south of the lighthouse. A viewing area has been setup consisting of boardwalks and interpretive signs. It is open every day of the year. There is a gravel and dirt parking lot holding plenty of parking for all sizes of vehicles. Occasionally, especially on busy weekends, docents can be found on site answering questions and giving talks. Also, sometimes a small table of souvenirs is available for purchase. The docents and souvenir table are attached to the Friends of the Elephant Seals which was formed in 1997. In 2006, the land the rookery was located on became under the control of the California State Parks. The Friends of the Elephant Seals also run a gift shop and information center in San Simeon. It has some items on display, but is mostly a good place to purchase souvenirs consisting of sea lion and other marine related merchandise. They also have information and souvenirs pertaining to the nearby wild herd of zebras.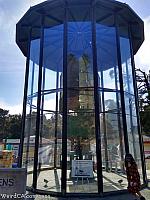 Another Elephant Seal Viewing area is located a few hours north, in Ano Nuevo State Park, also along California Highway 1, north of Santa Cruz. There are even more elephant seals living there than at Piedras Blancas. Elephant Seals first started hanging out there in 1955 with the first pup being born there in 1961.
North of the rookery is the Piedras Blancas Light Station or the lighthouse. This lighthouse was built all the way back in the 1870s, first lit up in 1875, and is surprisingly still in operation today. Light house tours of the area lasting about two hours are offered throughout the year. The Bureau of Land Management operates and runs the light house today. The original lens and clockwork mechanism for the lighthouse are now on display in Cambria along Main Street. This lens was built in France back in 1872, and was removed in 1949 as a result of earthquake damage. Additionally, a local legend states that immaterial white translucent figures can sometimes be seen standing on the cliff near the lighthouse gazing out at the sea.
Soon after the lighthouse, further north on Route 1, is the abandoned Piedras Blancas Motel. This twelve room motel was built in the early 1950s. It closed in April 2005 and is now owned by the State of California as part of the Hearst San Simeon State Park. It was notable for being the one small parcel of land near Hearst Castle that William Randolph Hearst was unable to acquire. At times the motel had a cafe, a gift shop, and even a gas station, although the gas pumps were long ago removed. It's rumored that parts of the motel are occasionally used by the State Park employees, and there might be plans to place a campground at the location of the motel.
Closest Weird
First Created: 2022-02-26
Last Edited: 2022-02-26