Weird California - By Joe Parzanese
Pismo Beach Monarch Butterfly Grove

Highway 1, aka Dolliver Street, Pismo Beach, California 93433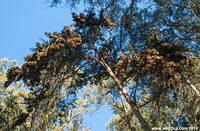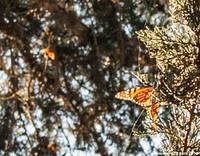 Every year, thousands upon thousands of Monarch Butterflies migrate to the Central Coast of California for the winter. They gather, starting in October and staying through February, in a small grove of Eucalyptus Trees just south of Pismo Beach along Highway 1. Pismo Beach is just one of five groves in the state where they gather in numbers over 10,000.
While at Pismo Beach, spectators can see hoards of butterflies clustered together, one butterfly lying on top of the other with their wings held down over the butterfly below it. This clustering protects the butterfly from the cold, rain, etc, and allows them to last through the winter. It also helps the butterflies survive the wind as well.
When we visited in January 2014, there were over 30,000 butterflies in attendance at the grove. This may sound like a lot, and for recent years, it is, but in the 1990/1991 season there were over 230,000 butterflies present in the grove! Recently, numbers have plummetted throughout the state to in 2019/2020 a measely 27,700, with 6,700 located at Pismo Beach. That number is more than double the previous year's total of a little over 3,000. Luckily as of December 1st, 2021, the current count at Pismo Beach's grove is over 22,000!
During the season, telescopes are set up to focus on areas of the trees that have high numbers of butterflies. Docents will give scheduled tours most days, and a gift shop is open selling butterfly themed items.
Pismo Beach welcomes the migrating butterflies each year by decorating up their three giant concrete clams, painting a butterfly on the clams. These three giant clams are done up a variety of ways for the holidays and other local events, usually getting repainted multiple times per year. The three clams are located at three different locations in town, and are often painted differently from each other.
The monarchs wintering in Pismo Beach are not the same monarchs migrating to Mexico. These monarchs are ones that live west of the Rocky Mountain Range and instead of wintering in Mexico, they winter in areas in California such as Pismo Beach.
There are several other Monarch Butterfly Roosts in California. These include Fremont, Santa Cruz, Morro Bay, San Diego, Encinitas, Long Beach, Malibu, Big Sur, Ventura and Monterey.
Closest Weird
Comments:
KT of AG, CA on 2015-08-12 said:

According to an acquaintance who grew up in AG during the 60s/70s, one of the reasons for the decrease of butterflies in recent years is the clean up they did of the park. They removed the flowers the butterflies fed on in the area.
Outside Links:
Outside References:
First Created: 2014-01-25
Last Edited: 2021-12-05