Weird California - By Joe Parzanese
James Dean Memorial

James Dean Memorial and Jack Ranch Cafe
19215 California 46, Cholame, California 93461


Last Place James Dean Stopped for Gas
17191 California 46, Lost Hills, California 93249 ?


Griffith Observatory
East Observatory Road, Los Angeles, California 90027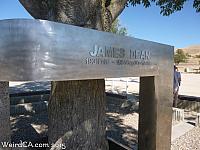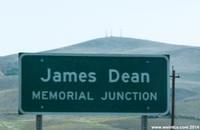 On September 30th, 1955, James Dean died in a terrible car crash on what is now Highway 46 (then numbered 466). Located a short distance away from the crash site is a sculpture made of concrete and stainless steel surrounding a tree outside the Cholame "post office" and Jack Ranch Cafe. This is the James Dean Memorial. It was made in Japan in 1977 and the entire project was done by Seita Ohnishi. The location of the actual crash site, the intersection of Highways 41 and 46 was dedicated the James Dean Memorial Highway in September 2005.
The "post office" is little more than a few mailboxes, and the Jack Ranch Cafe is your typical greasy spoon. It has several pictures and art show casing James Dean hanging all over the walls in the restaurant. The grounds have several signs stating "Beware of Rattle Snakes". The memorial to James Dean has several plaques next to it, and visitors have sprinkled several coins upon it.
Further East down 46 close to the small town of Lost Hills, where the highway intersects Highway 33, on the Southwest corner of the intersection is Blackwells Corner General Store also known as James Dean's Last Stop. The location was opened in 1921 by George Blackwell. They have two wooden signs outside the gas station and shop of James Dean. One is a super tall version of James Dean on the eastern side of the store pointing the way to the entrance, and the other is a memorial sign of Dean's head and shoulders that commemorates the actor and his last stop. James Dean supposedly purchased an apple and a coke while there.
Inside the general store is a fifties diner, a variety of James Dean art (especially across the walls of the diner), and lots of fifties memorabilia and pictures available for sale, along with the regular items you expect to find in a highway general store. Back near the bathrooms there are a variety of newspaper articles, pictures, and other information hanging on the wall about James Dean, Blackwells Corner, and that fateful day. There's also a pair of goggles in a glass case set into the wall. These were retrieved from the crash by Marie Elia when she and her husband came upon the crash on their way to Cayucos. She took the sunglasses and had them hanging on her porch for years before giving them to her daughter. 62 years after the crash they eventually were donated, made their way to Blackwells Corner, and put on display behind bullet proof glass.
In one of those bizarre twists of fate, on September 17th, 1955 almost two weeks before the accident, Dean filmed a thirty second commercial for the National Highway Safety Committee stating at the end of the commercial "Take it easy driving. The life you might save might be mine."
Supposedly if you believe the urban legend, a week before his death, James Dean introduced himself to the actor Alec Guinness. While doing so, he showed him his brand new Porsche, "Little Bastard". Supposedly, Guinness thought the car appeared 'sinister' and told Dean: "If you get in that car, you will be found dead in it by this time next week." According to legend this was on September 23, 1955, seven days before Dean's death.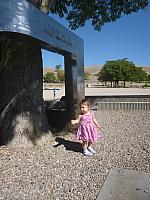 The accident occurred when Dean was driving west on Highway 46 and reached the intersection of Highway 41. A Cal Poly State University student, Donald Turnupseed, was making a turn onto 41 and entered Dean's lane without seeing him. Although evidence of the wreckage shows that Dean was probably only going 55 mph, he was unable to stop. (Dean also received a speeding ticket at 3:30 pm that day outside of Bakersfield). Police ruled that the color of Dean's Porsche combined with the twilight hour, camouflaged his car, hiding it in the light from Turnupseed's vision. Turnupseed made only brief comments to a newspaper after the crash and then never commented on it again until he died in 1995 of lung cancer. Dean's passenger, his mechanic, Rolf Wuetherich, escaped with several injuries including a broken jaw. He died in 1981, ironically, in a car accident in Germany.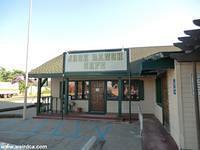 James Dean died while driving along this road in one of only ninety Porsche 550 Spyders. Dean nicknamed the car "Little Bastard" and it had the number 130 on the front, side and back. The car was also customized by George Barris who would notably go on to do work on the Batmobile, the General Lee of Dukes of Hazzard, and KITT of Knight Rider. After James Dean's death, legend states that the car was cursed. George Barris bought the car for $2500 supposedly for parts. Upon arrival at the garage, it fell off the trailer and broke a mechanic's leg.
Later the engine and drive-train were sold. The buyers were two doctors planning on using them as parts in their own race cars. In their very first race, one car spun out of control and hit a tree, killing the driver, while the other rolled over severely injuring the driver. The tires were next on the list. Two tires were sold and they blew up at the same time causing the buyer's car to careen off the road.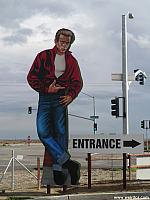 Even car thieves weren't immune to the curse of Little Bastard. Two were reportedly injured in their attempts to steal parts of the car. Barris eventually loaned the car to the California Highway Patrol for a highway safety exhibit. The first time it was exhibited, the garage storing Little Bastard burnt down in a fire, consuming everything except the cursed car, which was not even touched by the blaze. The second time was at Sacramento High School, when the evil car fell onto a student breaking the student's hip.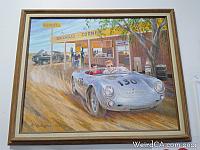 Little Bastard also caused multiple accidents when it was being transported. Supposedly killing a truck driver of the flatbed truck it was on. The driver lost control of the truck and was thrown from the cab. Little Bastard then fell off the flatbed and crushed him. It fell off yet another flatbed while in transit, and even a parked truck carrying it suffered the consequences when its brakes came undone and the truck, Little Bastard and all rolled down crashing into yet another car.
The last two incidents involve Little Bastard in 1959 while on display in New Orleans supposedly simply falling apart into eleven different pieces for no apparent reason. Then in 1960 while en-route on a train to Los Angeles (although I've seen conflicting reports state a truck), the car mysteriously vanished, never to be seen again.
Occasionally there are reports of Little Bastard sometimes along with James Dean rocketing ghostly down the highway near Cholame, possibly re-enacting the fatal accident, so be careful when cruising California's Highway 46.
Griffith Observatory
In 1955, arguably one of James Dean's most famous movies was released. "Rebel Without a Cause" was the movie that made James Dean James Dean. And the Griffith Observatory down in Los Angeles was prominently featured in the movie. Outside Griffith Observatory in honor of James Dean is a bust of the actor along with a plaque, overlooking the Hollywood Sign.
The sculpture was originally commissioned by James Dean from artist, Kenneth Kendall, who had impressed Dean with a sculpture of Marlon Brando. Supposedly Kendall started the sculpture the night that Dean crashed. A copy of the bust is also located in Fairmount, Indiana at the James Dean Memorial Park.
Key scenes from the classic motion picture "Rebel without a Cause" were filmed at Griffith Observatory in Spring 1955. Although many movies have been filmed at Griffith Observatory "Rebel Without a Cause" was the first to portray the Observatory as what it is and to contribute positively to the Observatory's international reputation. This monument acknowledges Griffith Observatory's long and continuous involvement with Hollywood film production by remembering the young start of that motion picture.

Photo by Stephanie Olsen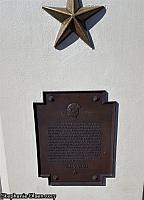 Comments:
Glenn of Pleasanton , California on 2021-06-24 said:

I have drive on 46, 41 and 33 hundreds of times, typically from Lost Hills to SLO, occasionally in my old porsche, and everytime I think about all of the lives we have lost on those roads, including Deans. The roads are dangerous when foggy, especially at night, but most of all, because of drivers taking chances that put themselves and others at risk. The section of highway where 41 and 46 is one of the safer spots, confirming the need for caution, please be careful.

Frank R. Douglas of Carmel, California on 2018-01-16 said:

Things odd do occur but in relation to the accident site or should I say very near it as the road is not exactly in the right place today, I was driving west towards it and it was 47F outside just as I go to the intersection my temp gauge indicated 55F and then it returned to 47F. Was that supernatural or just circumstantial but the accident occurred in 1955 and I was thinking about it as I drove by!

Dana Rowe of Palmdale, California on 2017-11-05 said:

The Whole Incident Is Strange Donald Turnupseed Was Later Committed To A Mental Hospital For One Year As Well As Rolf Wutherich For Attempted Murder On His Wife Turnupseed Restored The 1950 Ford And Sold It For A Heafty Sum These Facts Have Been Reseached Totally Bizarre Dana Rowe

STEVE CONLIN of ARLETA, CA on 2017-09-02 said:

The 41 merging lane west, where it now smoothly blends into the 466, was basically the intersection of the accident in 1955. There have been modifications to the 466 highway itself, currently being wider, and the modern intersection constructed just to the east was not there in 55. You cannot see the utility pole, it was removed in the late 1950's highway modifications. Hearst Ranch hands may have fashioned the old pole into the massive wooden fence posts visible a few yards from the Dean wreck site. The Porsche is long gone, sold for parts and scrap after being cannibalized and exhibited. Sports car guys here in S. Calif know the story.

Martina of Prague, The Czech Republic on 2017-06-06 said:

The guy who stole James Dean´s car wreck is now dead. However, his son knows the exact location of the stolen car since he was there when the car was stolen and sealed behind a fake wall in an unused industrial building somewhere in or around Bellingham, Washington. But he won´t tell anyone unless he gets 1 million USD, he said. That is what I read in the news, at least. It came out a year or two years ago. The guy was interrogated by the cops and even put on a lie deterctor test. He passed with flying colors. I believe the story. But I also helluva want someone to find the car!

Harry Craycroft of Concord, CA on 2014-07-17 said:

The exact location of the crash site is about 100 yards north of the present intersection of 46 and 41. You can see the utility pole that Deans car rested next to after the crash from the present day intersection. The intersection has changed through the years due to road relocation.

Scott of Turlock, Ca on 2014-05-08 said:

Someone stole the infinity symbol and numbers from the sign. Sad.

John of Los Angeleson 2013-01-02 said:

Barris bought the car after the wreck to part out. He did later sell the engine and drive train to different parties, one of which died later racing a car with parts from Dean's.

Joe Lineberger of Blowing Rock, NC on 2012-10-03 said:

George Barris never owned the Porsche. Dean Jefferes Painted the numbers and "Little Bastard" on the car.

blue coyote of Salinas, California on 2012-07-19 said:

Supposedly when the car was brought on a truck thru Salinas, a few parts fell off and were buried in a bordering farm field. I've only heard that story once but give the fact that Dean was headed to Salinas when he died, it makes sense a story would sprout up.

Anonymous on 2012-05-08 said:

Highway 46 is a very dangerous route from the valley to the coast. I've traveled it many times by car, and big rig truck. For some reason, people will pass on blind curves, and even pass without enough room to do so, seemingly expecting oncoming traffic to give way. It's the worst stretch of highway around for inconsiderate drivers.

N Meyers of Lemoore, CA on 2012-01-01 said:

Just a small correction. The intersection of 41 & 46 is named James Dean Memorial Junction. Not Highway. Cool website.

Judy Britton of Lemoore, CA on 2011-11-27 said:

I have been on this same road for many years and it is not that curved or frightening. I think it was just a freak accident with horrible timing!

Kay of Grover Beach, California on 2011-10-01 said:

I've driven that stretch of road HUNDREDS of times. NEVER once have I ever seen the car, or Dean. I would count that as a false "ghost story". That stretch of road, itself is not very dangerous. A lot of traffic goes thru every day. And it isn't very curvy. The actual place is rather flat. Surrounding areas, are hilly & windy, of course. And as for the comment above about your friend supposedly having parts & stealing them? Please tell me you're not so gullible.

Daniel Urbaetis of San Diego, Orig. NY on 2011-09-27 said:

The problem I have with sensatioalism and mind-numbing theories of the stupor-natural, is that they take focus away from what's important. James Dean lived. It's not too important to dwell on how he died. Respect it as you did how he lived and then refocus on the time he was sharing his passion for living with the rest of us. The 550 Spyder is as important to me as the type of socks Rolf wore the day of the accident. James Dean is what is to be remembered. The ghost on the highway isn't needed for his spirit to live. We are still discussing him and it's 2011, in case someone out there attempts to disagree

Ryan Jones of Lemoore, CA on 2010-01-04 said:

i just travled that stretch of hwy 41 going towards pismo beach & that hwy there 41 & 46 is really dangerous & i advise anyone not knowing the area be really careful because its very hilly lots of curves in the road, but the most dangerous thing is the idiots who drive on it because the locals drive like they own the road & thats not good with the cliffs & all!!! lol

Susan Roe of Sausalito, California on 2009-07-08 said:

I was there the night he was killed. We grew up in shandon and it was emotional. I have not yet seen the memorial but the next time I am visiting my parents grave in Shandon I will visit this site. It was a long time ago and I recall it as though it were yesterday.

Shandi Sanders of Atascadero , California on 2008-07-08 said:

I just moved to Atascadero from Cholame. I lived about 2 miles from the crash site. Right on hwy 46. If you ever get a chance visit the Jack Ranch Cafe on hwy 46 near were he wrecked they have the two tickets on the wall from the officer that gave dean his ticket. One when he was speeding the first time and then one reporting the crash. It is a scary road at night and has been known as Death Valley Hwy to the locals because so many accidnts happen. So people please be careful.

Dan of Sacramento, CA on 2007-11-03 said:

my friend says that parts for Deans car were on display in his High schools auto lab. He stole them and he says he now has them. Does anyone know anything about this. If it is true I would like to report it and have the parts returned.
Outside Links:
Outside References:
First Created: 2007-11-03
Last Edited: 2021-09-29