Weird California - By Joe Parzanese
The Clown of North Hollywood

Circus Liqour
5600 Vineland Avenue, North Hollywood, California 91601
(Corner of Vineland Ave and Burbank Blvd)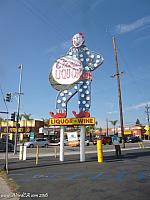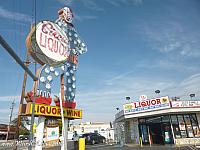 So you're cruising down Vineland Avenue in North Hollywood and as you come up to the intersection with Burbank Boulevard, there he is, standing thirty two feet tall, grinning evilly down at you, scaring the pants off of you!
Yes, North Hollywood has an evil clown. An evil clown that sells alcohol. Cause nothing makes you drink like being scared by an evil clown. And he's been doing it for fifty years, since the business opened in the 1960s.
The maniacally grinning, has X's for eyes clown proudly stands on the corner bearing a large drum with the liquor store's name emblazoned on it. His traditional polka dotted outfit is a bright blue. And at night, if he wasn't creepy enough during the day, he lights up in neon, with bright blue, yellow, and red neon.
The liquor store is called Circus Liquor and it proudly boasts 750 types of beer, 1000 types of spirits, and am impressive selection of kegs! They also sell t-shirts, hats, and other souvenirs of the evil clown!
The clown and liquor store are also something of a movie celebrity having appeared in a few movies and music videos. Its most famous appearance is probably in the Alicia Silverstone movie, Clueless, where Silverstone's character, Cher, is held up in the parking lot next to the clown. The location also serves as a crime scene in Snoop Dogg's music video for "Murder was the Case". IMDB lists three other movies as having used the location: Blue Thunder (1983), Spun (2002), and Alpha Dog (2006).
So if you suffer from coulrophobia and thus are deathly afraid of evil clowns, perhaps you should get your alcohol from some other liquor store than Circus Liquor. But if you can appreciate some nice neon clown, then this is the place for you!
Closest Weird
Outside Links:
First Created: 2016-03-26
Last Edited: 2016-04-12