Weird California - By Joe Parzanese
World's Largest Totem Pole

Central Ave at City Center Road, McKinleyville, California 95519
(McKinleyville Shopping Center)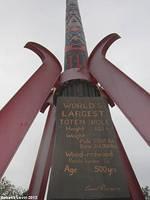 Carved from a single 500 year old redwood, the World's Largest Totem Pole stands 160 feet tall and weighs 57,000 pounds. The base that holds it up clocks in at 214,000 pounds. Designed in 1962 by Ernest Pierson with the help of Johnny Nelson it was erected to celebrate the opening of the McKinleyville Shopping Center.
The top of the totem pole has a thunderbird on it with a wingspan of twelve feet. The right eye is actually a hole in the log and birds have been seen flying in and out of it. Below the thunderbird is a red headed woodpecker, a coyote, a blue jay, a frog, a crow, a beaver, an owl, a grizzly bear, and finally an unknown mysterious face.
In 1984 due to the wood suffering from rot, the totem pole was taken down and fixed up. The carvings were redone and an antenna was attached to the top. After the antenna fell over, the entire totem pole was surveyed again in 1999. The actual wooden pole came in at 144 feet and 8 inches. With the antenna on top it is 159 feet 5 1/2 inches. This makes it the tallest totem pole carved from a single log and it is also the largest totem pole in the world.
Other notable Totem Poles in the world include:
Alert Bay, British Columbia - at 173 feet, they claim to have the World's Tallest Totem Pole, but it's made out of two different pieces
Kalama, Washington - at 140 feet, this totem pole is made out of a single piece, but wasn't crafted by a Native American
Kake, Alaska - at 132 feet, this traditional totem pole is made out of a single piece and was crafted by Native Americans
Duncan, British Columbia - at six feet in diameter, this totem pole is the thickest in the world
Foyil, Oklahoma - at sixty feet tall and thirty feet wide, this is the World's Largest Concrete Totem Pole.
All three pictures courtesy of Rebeka Levin.
Closest Weird
Comments:
Anonymous of McKinleyville, California on 2023-09-13 said:

I am a local, born and raised in Arcata near the top of Fickle Hill. I have little appreciation of the Totem in Mckinleyville mostly because it is not representative of our local Indian tribes. I realize they don't make or have totems and do express their art in other ways. I agree it is a tremendous feat on the part of the creators, Pierson and Nelson. But it has absolutely nothing to do with our local tribes. I tend to feel like it was or is a slap in the face to them and have felt this way even as a little girl. I always wondered about this and felt that our indigenous tribes should speak out expressing their sadness if indeed they felt that way. Maybe they were too afraid to say anything. The pole always made me sad despite the fact that I have no relation to the local tribes. Am I the only one who feels this way? Food for thought.

John Welch of Shingletown, California on 2014-12-31 said:

You have the tallest totem pole. Shingletown has the best looking totem pole in the world. The Animal Council Totem Pole.

Jack Durham of McKinleyville, CA on 2011-04-14 said:

When viewing the McKinleyville Totem Pole, you get to admire the work of two artists - Ernest Pierson, who carved the pole, and Duane Flatmo, who repainted the pole in 1998-99. Flatmo is a Humboldt County, Calif. artists well-known for his murals and quirky artwork, as well as his kinetic sculptures, which you can see in Humboldt's famous Kinetic Sculpture Race every May. Flatmo gave the McKinleyville Totem Pole much more vibrant colors and a unique design. It's worth looking at the Totem Pole from various angles and under different lighting conditions. Use binoculars to watch birds hanging out at the top. Some people make the mistake of judging the totem pole as if it's supposed to be somehow authentic from a Native American point of view. It's not. It's a piece of interesting folk art. The Totem Pole is at the McKinleyville Shopping Center, so you can combine seeing this site with stocking up on food, beverages and other supplies.

Anonymous on 2008-04-01 said:

Having lived up there much of my life I can tell you that if you plan to make a special visit to see the pole you will be a bit disappointed. It's neat and all, worth looking at for about 3 minutes but there are 1,000 amazing places up there that I would visit first. Rich in history, beautiful nature spots and steeped in Indian traditions... make sure to swing by the pole but check out everything else first.
First Created: 2006-06-10
Last Edited: 2013-12-03